GET EMAIL UPDATES FROM POWERTOFLY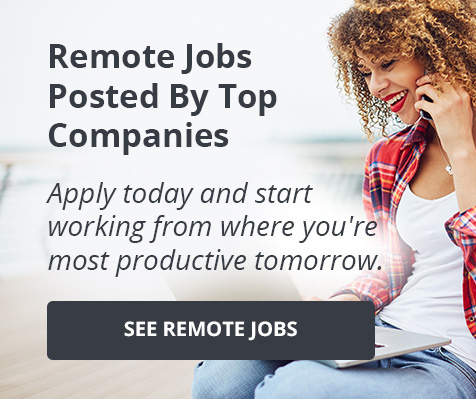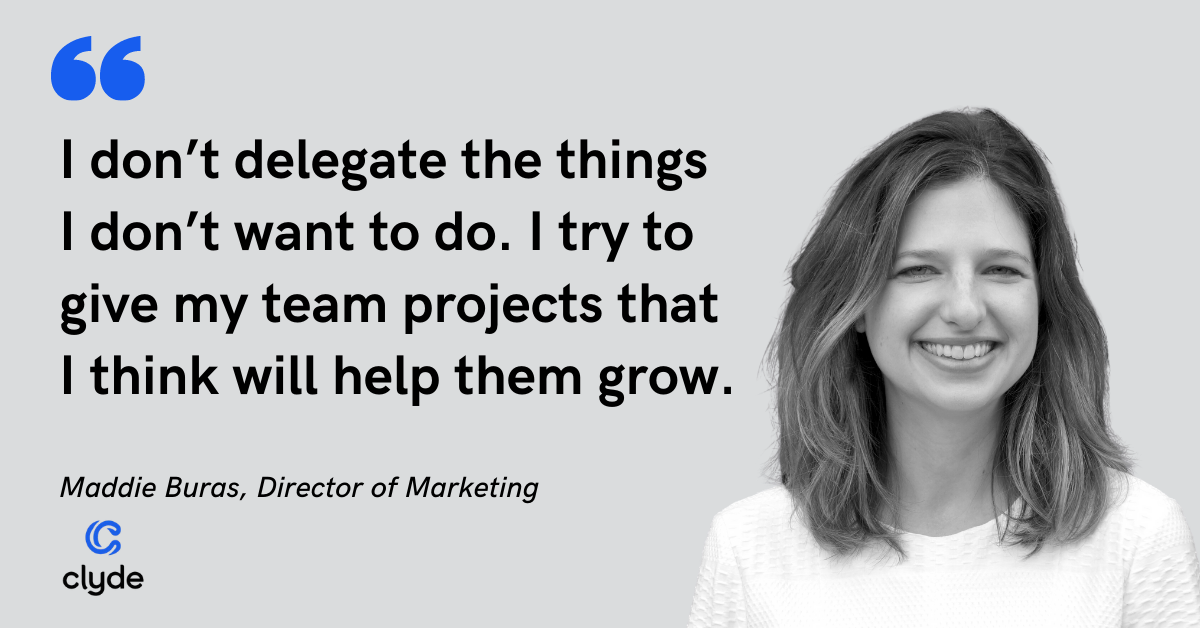 Clyde
4 Ways to Build an Empowered Team from Clyde's Director of Marketing Maddie Buras
Give Maddie Buras a new environment and she'll find a way to fit in. Whether growing up in New Orleans, working for media giant Time Inc., or attending business school in France and Singapore, Maddie's never had a problem creating connections and building community.
---
Post business school, Maddie started working in marketing for startups in the New York area. She loved the fast pace and opportunity to build and shape company culture, so when she heard about a marketing opportunity at extended warranty platform Clyde just over a year ago, she knew it was an environment where she would thrive. "I was really excited to go back to a smaller startup and build something from scratch," she says.
She joined Clyde just over a year ago as their first marketing hire, and now, as their Director of Marketing, she's working on building a team—and an environment that will set her team members up for success.
We sat down with Maddie to talk about the ways she's practicing purposeful management to create a team that can navigate the no-holds-barred environment of a fast-growing, industry-changing startup without losing momentum or focus.
Building a management philosophy
Now that Maddie's team is expanding, she's been thinking about what kind of manager she wants to be. For her, it's all about centering expertise and unblocking obstacles to allow her team to focus on what they do best.
"It was just me for a year, and it was really fun to be able to do a little bit of everything from content to field marketing to operations to email to advertising, and to ruthlessly prioritize," she says. "It's allowed me to be a generalist, and it means now I want to find people who are strong in specific areas of marketing who I can help develop, while having them own their portion and be the expert."
For Maddie, expanding her team and setting them up for success has meant taking the following steps:
1) Defining what you're looking for. "For me, it's all about a positive attitude; an eagerness to go outside of your job's specific, wnarro duties; and strong written and verbal communication skills. No matter what your role is on a marketing team, even if you're not focused a hundred percent on content, being a good writer is key," she says. It's a bonus if candidates have startup experience; Maddie notes that people who haven't worked on small teams before can get "stressed out by the fact that there's less structure than they're used to."
2) Creating a human-first interview process. Maddie started interviewing for her team during COVID and noticed that many candidates were coming off of layoffs at other companies. "I can imagine how people are feeling right now. I wanted to be upfront about what the process of interviewing at Clyde looked like and how long it might take so I could manage their expectations," she says.
3) Handing off goals to her team—and empowering them to make decisions. As the Director of Marketing, it's Maddie's role to translate company initiatives and goals into specific marketing OKRs that she can then hand off to her team. And she doesn't just give them the worst things on her plate: "I don't delegate the things I don't want to do," says Maddie. "I try to give my team projects that I think will help them grow, that will be slightly challenging and fun. And when they succeed at that project, I want them to be the person who presents that to the whole company. I don't need to be the mouthpiece of marketing all the time," she says.
Giving people goals to go after, says Maddie, empowers them by giving them enough structure to make sure they're headed in the right direction, while leaving them with enough space to self-start and prioritize their work. "It lets team members view everything they're doing through the lens of, 'Is this something that's going to help me achieve these objectives?'" she says.
4) Giving regular feedback. Maddie likes the cadence of weekly one-on-ones with her direct reports to do project check-ins, give feedback and get feedback in return, and prioritize as a team. "It's often hard to give feedback upwards, but there are a bunch of little things you do to make people feel comfortable; it's not getting angry when things get messed up; it's creating an environment where you can have that dialogue," she says.
It's important for her to get an up-close look at progress in these meetings, Maddie notes, so that she knows how her team is doing against Clyde's shifting marketing goals. "In marketing, you can always be doing a lot of things, but you have to figure out what's actually working—whatever you've defined 'working' to mean," says Maddie.
And this extends to managing asks from other teams and coworkers, as well, she says. "Lots of people feel like they have to say yes to everything, but when you have a strong sense of your goals, it empowers you to say, 'No, I can't prioritize that right now; it's not aligned with my goals.'"
Looking towards the future
As Clyde continues to shape the extended warranty market, Maddie imagines her team will continue to grow. When she looks to bring on more marketers, she'll look for the key experience and skills outlined above, as well as an important and vital characteristic for a growing startup: the ability to work across teams.
"Being good at your job, as in technically good at the skills required, is only half of your job. The other half is being able to work collaboratively with other teams," says Maddie. "I can't be successful at my job unless I get feedback from sales and customer success and work with our data science team to get data that I need for content, and work with product to understand what our platform can do so that I can help with messaging. If you can collaborate effectively, then you'll find success in your role."
Learn more about Clyde and their open roles.
Related Articles Around the Web