GET EMAIL UPDATES FROM POWERTOFLY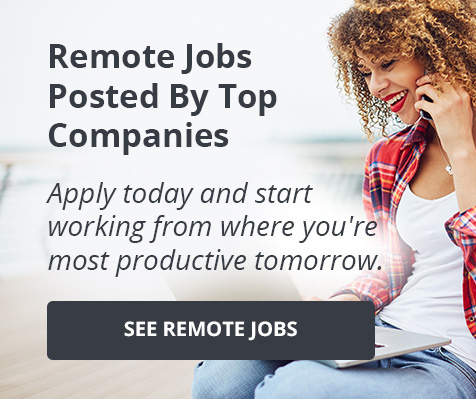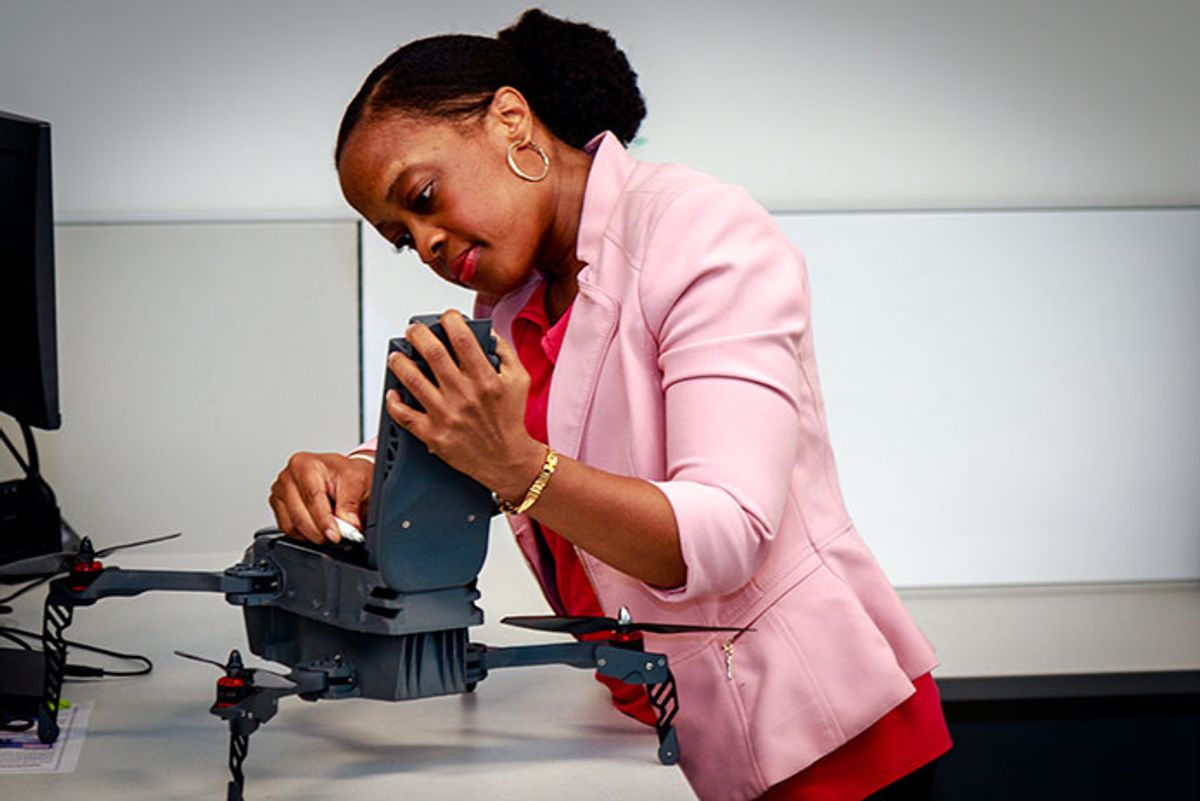 Raytheon Technologies
How women can rise in tech
RI&S top engineers offer career advice in virtual workshops
Below is an article originally written by Raytheon Intelligence and Space, a PowerToFly Partner. Go to Raytheon Technologies on PowerToFly to see their open positions and learn more. The picture above features Claudeliah Roze, RI&S technical director, Mission Modernization and Solutions, working on a Raytheon Technologies-built drone manufactured in the company's Indianapolis facility. Roze is active as a volunteer for Science, Technology, Engineering and Math education as well as serving as a mentor to women engineers new to the workforce.
Only 11% of executive positions in Silicon Valley are held by women, according to a 2019 Harvard Law School study. This gender disparity across the industry is one of the reasons why employees at Raytheon Intelligence & Space, one of the four businesses that form Raytheon Technologies, participate in the Women Impact Tech event series.
Its mission: "To provide a platform of professional growth for women in tech by connecting companies dedicated to diversity, inclusion, and female leadership with the top female technologists in the country."
Their event series brings together top female engineers to engage in discussions around what they are doing — and what they can be doing — to impact the future of women in tech. Two Raytheon Intelligence & Space engineers participated in virtual WIT panels, June 8-12, 2020, to share their experiences as female leaders in engineering.
Claudeliah Roze, RI&S technical director, Mission Modernization and Solutions, spoke on a panel titled "Ways Tech is Changing the World in 2020." Roze spoke about how Raytheon Technologies plays a key role in the Global Positioning System, and how GPS impacts society in ways people don't know about it.
"Many of us think of GPS as a way to find the latest and greatest restaurant; however, it's used in medical equipment for critical and precise timing as well as by our first responders, trying to locate injured or very sick people," she said.
Roze said she went into engineering not only for the challenge, but also the opportunity to improve people's everyday lives.
"One of the things that I tell people that I mentor is that when you're constructing your engineering career and you're figuring out what you want to do, you have a responsibility as an engineer to also think of the human side of it," she said "How can I take technology to make life safer and better for the everyday person? I tell them to keep in mind our civic responsibility as citizens of this great world."
Affecting change and influencing the paths of future engineers is also what drew in Kate Maxwell, RI&S director, Engineering Transformation Strategy. Maxwell spoke on a WIT panel about "The Courage to Lead: Inner Dimensions of Culturally Conscious Leadership."
The session focused on the importance of diversity and inclusion; how critical it is to actively listen to each other; and why courageous leadership is necessary to eradicate systemic racism.
"What companies are starting to realize is that if their employees bring their authentic selves to work, and be able to show up as who they are, without having to carry that mental load of trying to conform to a different standard, or trying to hide some part of them, that's really where you get that diversity of thought," Maxwell said. "That's when people start to become more innovative, and you can start to create new products and capabilities and disrupt your business itself, which is a really positive thing. We know the top performing businesses are the ones that put a lot of emphasis on diversity and inclusion."
Her advice to the attendees focused on the importance of diverse perspectives, allyship and creating a safe space where employees can bring their authentic selves to work.
"Have the difficult conversations and lead with empathy and compassion," Maxwell said. "Recognize that you might not have the right words, but it is better to have these tough conversations than to be silent. Be an active ally.
"And on the career front, lean into the discomfort and the fear. Raise your hand for the hard things. It will help you to grow," she said. "Do not discount the value of mentors and champions. Cast a wide net and remember to pay it forward as you grow your career."
And these discussions did not stop at the end of the panels. Our RI&S panelists have continued to receive feedback from attendees via email and have broadened their apertures as a result.
And Maxwell even picked up a new mentee — her panel moderator.
Moving forward, both women agree: never be afraid to have the uncomfortable conversations. In the words of one panel attendee, "What a crucial time to have this discussion."
"Especially in times of world-impacting events like we're experiencing now, we need to be able to bring our full selves to work. So open those dialogues and be active listeners," Roze said. "Without them, we won't get to much of a solution."
To learn more, you can listen to their panels on demand:
Five Ways Tech is Changing the World in 2020
The Courage to Lead: Inner Dimensions of Culturally Conscious Leadership