GET EMAIL UPDATES FROM POWERTOFLY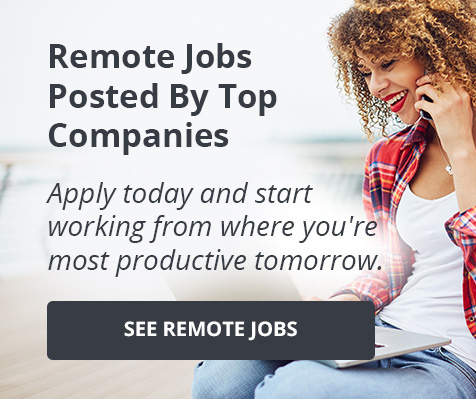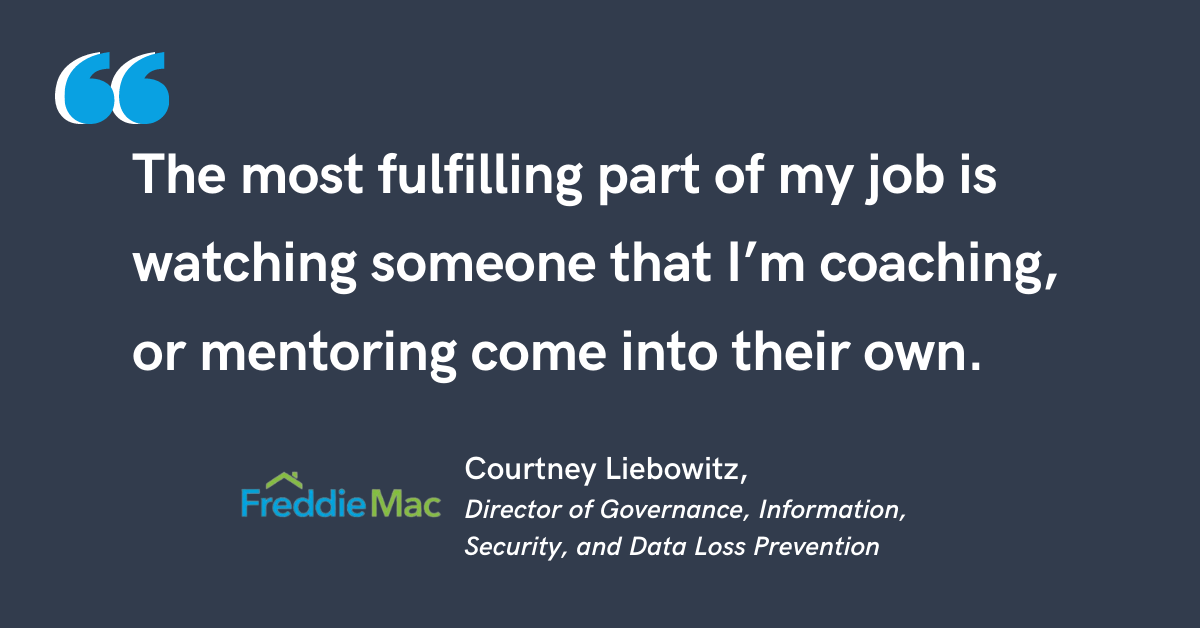 Freddie Mac
3 Tips from Freddie Mac's Courtney Liebowitz on Leading as a Woman in Tech
Courtney Liebowitz—now the Director of Governance, Information, Security, and Data Loss Prevention at Freddie Mac—didn't have much experience with information security when she first joined the federal mortgage lender as a consultant in 2013.
Since starting at Freddie Mac, Courtney's hard work and thirst for continual learning have led her to take on several new challenges, including her most recent promotion to director. We sat down to ask her what other key lessons shaped her path into leadership, and what advice she has for other women looking to follow in her footsteps.
Finding Her Stride as a Leader
As a consultant, Courtney taught herself the ins and outs of information security and quickly proved her mettle at Freddie Mac—her success didn't go unnoticed, and she was hired full-time as a manager in 2018.
One of the things Courtney has appreciated most about Freddie Mac is how supportive the company is of her desire to learn and stretch herself.
"If you want to learn something new, or go to a different division, people support that, and there's a lot of opportunity," she explains. For Courtney, that opportunity has meant increasing responsibilities through promotions to senior manager, and most recently, director.
Leadership is something Courtney has taken to organically. "It's in my nature to take on extra stuff, to fix things," she says. But she attributes her development as a leader in large part to the support she's received from Freddie Mac.
"I've had a lot of training experiences throughout my tenure at Freddie Mac. They're absolutely supportive, and very much promote women in technology," she says.
One of the most formative experiences Courtney has had at the company was a six-months-long executive leadership training for women in information security. "It was fantastic," she says, noting how the training opened her eyes to some of the barriers women in the workforce face.
"Prior to the training, prior to seeing the data," she explains, "it wasn't something I was particularly aware of because I have never been made to feel that way—dismissed, or too assertive—at Freddie. Not at Freddie, not one time."
Understanding the challenges that do exist has made her grateful for the environment she finds herself in at the company. In addition to the training she's received, she has a great example to look up to in Betty Elliott, Freddie Mac's Chief Information Security Officer (CISO). "My CISO is a very strong female lead. She's amazing," she says.
Paying It Forward: 3 Tips for Other Women in Leadership
Courtney's self-taught approach, coupled with the support she's received from Freddie Mac, has led her to a fulfilling leadership role in information security.
Now, she wants to pay that forward to other women in the field.
"The most fulfilling part of my job is watching someone that I'm coaching, or mentoring come into their own," Courtney says.
She shared three tips for excelling as a leader:
Trust your gut. If you are considering taking on new opportunities, even ones you might not feel entirely prepared for, go with your gut. "Use your best judgment," she says. "Your gut's not going to lie to you."
Put others at ease whenever you can. Courtney shares an example of how she was able to encourage a mentee who was scared about delivering a presentation: "I told her, 'I'll be in the meeting with you. If you stop talking, I will start.' And she's been presenting extremely well ever since."
Know when to compromise—and when to walk away. "[In a workplace,] you have different personalities. Sometimes, you can work together to come up with a compromise. Other times, you may have to agree to disagree and walk away. But if you're just constantly battling, you'll never get anywhere."
Want to work with Courtney at Freddie Mac? Check out their open roles!