GET EMAIL UPDATES FROM POWERTOFLY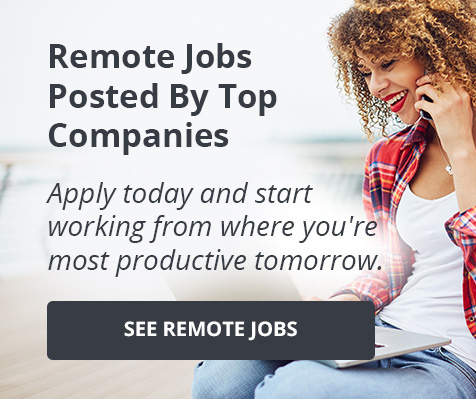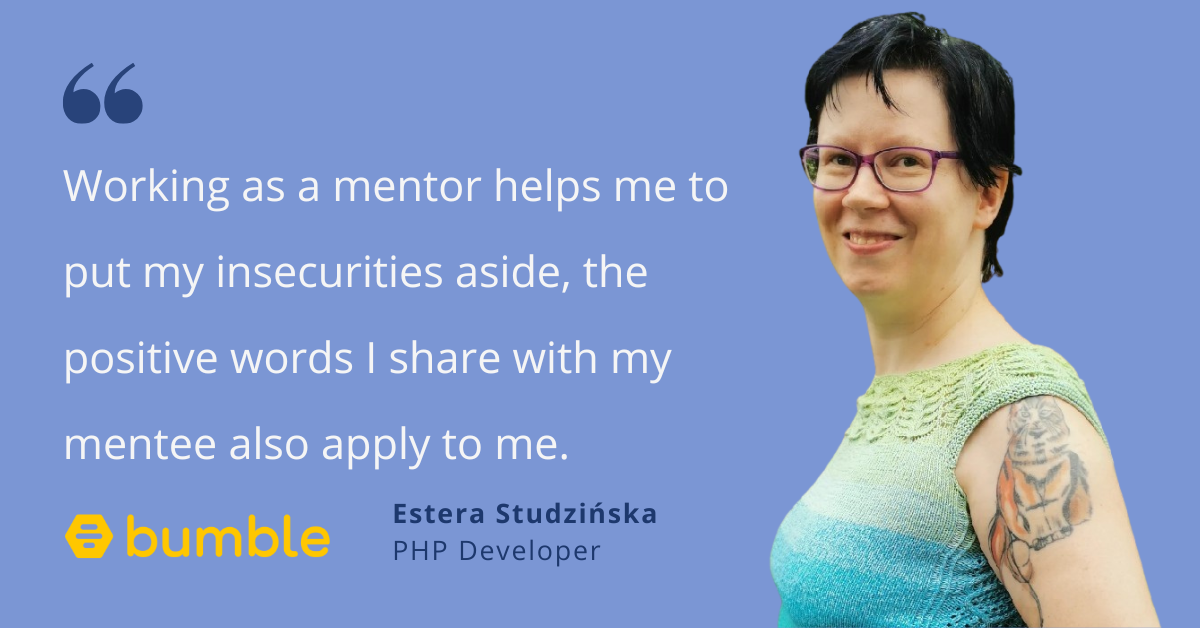 Bumble
Mentoring Women in Tech: Insight from Bumble's Estera Studzinska
From the start of her tech career, Bumble's PHP Developer, Estera Studzinska, has dealt with the pressure of being a woman in a male-dominated field.
"For a long time, I was very conflicted with who I was and what I was doing," she reveals. "Because in my mind, being a woman didn't match with being a Developer."
Despite this, Estera knew she belonged in the tech world. Since receiving her first computer at the age of eight, she's been fascinated by the intricacies of technology.
"When I started programming at university, it was amazing to make this machine do what I wanted," she shares. "It felt like magic being able to use my hands to make apps or websites."
Despite the gender imbalance in the industry, her passion for technology motivated Estera to pursue a career in tech. What's more, feeling like somewhat of an outsider drove her to support and mentor other women entering the field.
We sat down with Estera to learn about her experience mentoring other women in tech and how mentorship is a crucial part of supporting women's success.
The Tech World Can Feel Like a Boys Club
Estera's decision to study physics is what initially led her to computer science.
"I did a five-year program that took me straight to my Master's degree and those five years were amazing," she explains. "The program was mixed with physics and computer science, so I started to learn to program."
As exciting as her studies were, being a minority presented challenges.
"My university was mostly guys," she explains. "So I heard a lot of sexist jokes about women in tech or women that programmed. In the beginning, I felt pressured to be more like a guy."
Despite feeling uncomfortable at times, Estera persevered and secured a job with a tech company. However, she continued to be in spaces with very little woman representation.
"The women in the company were mostly Quality Assurance Engineers," she recalls. "They had tech roles such as Graphic Designers, but their positions weren't relatable to my more technical role."
It wasn't until her second job that she came across her ideal role model.
"My boss was a woman and a Product Manager," Estera shares. "She was the person who created the entire infrastructure and program that we were working on. "She was able to balance having both a familiar and a tech job. Because of her, I knew it was possible to fit into the tech space without having to be super masculine."
Working at Bumble
After about 13 years of working for different tech companies, Estera was approached by a recruiter from Bumble. Bumble Inc is a platform that enables people to connect and build equitable and healthy relationships and it operates three global dating and social networking apps, Badoo, Bumble, and Fruitz. Founded by CEO Whitney Wolfe Herd in 2014, Bumble was one of the first dating apps built with women at the center.
After a thorough interview, Estera was accepted and has been working for Bumble for the last two years.
"I really love everything about this company," she says. "I appreciate how they empower women inside the app by allowing them to make the first move. I love the company's mission and vision. I appreciate how they support minorities and women in tech. We have internal groups, such as Spectrum that help improve the work experience for members of the LGBTQ+ community."
Estera also highlights the relationships and camaraderie she has cultivated with her teammates and managers who get together outside of work to meet at pubs or do game nights.
Mentoring Women in Tech
Being at a company that understands the importance of women in tech has led Estera to do more for other women in the field. She's done so by working with two mentoring programs, Bumble Tech Academy and Dare IT.
"At Bumble, we have a lot of incredible women in our company and most of our leadership team is made up of women," Estera said. "The launch of the Bumble Tech Academy is reflective of Bumble's continued commitment to empowering women in places that have traditionally lacked equitable gender representation."
And the best way to expand the team was to train interested women. Out of 1000 applicants, eight women were chosen to train in Barcelona. She elaborates, "They did a three-month boot camp on front-end engineering. Then a three-month boot camp on Kotlin programming language. They joined our company after that, working as Junior Developers across various teams."
Having been a mentor in the program, Estera reflects on her relationship with her mentee.
"In the beginning, my mentee was super afraid of making mistakes," she shares. "She thought that if she made a mistake she would get fired or something terrible would happen."
Estera was able to help her mentee understand that although everyone tries their best to avoid them, mistakes are common.
"The most important thing was that I helped her to remain calm and be confident with herself," she says.
Estera's role as a mentor focused less on the technical side of learning and more on helping her mentee feel confident to make the best career decisions.
"My mentee was concerned about choosing between front and backend development," Estera notes. "So we talked about which one would be best for her."
Along with doing great work with Bumble Tech Academy, Estera has also supported women through Dare IT.
"Dare IT is an organization in Poland that helps women break into the tech industry," she explains. "They offer mentorships, support with curriculum vitae, and training. This will be my second time mentoring and my mentee from last year found a job."
Advice for Mentors and Mentees
With the tech industry becoming more diverse, there are more opportunities for women to feel accepted. But, this doesn't mean that every problem is solved.
"There is a lot of insecurity when you're working in a field where most of the people don't look like you," Estera points out. "I had to get through many years of my career before I met another female backend developer."
This is why Estera encourages more women to seek mentorship and for more women to become mentors.
"Working as a mentor helps me to put my insecurities aside," she explains. "The positive words I share with my mentee also apply to me."
For those either seeking a mentor or wanting to become one, Estera shares the following pieces of advice:
Look for someone with similar experience and background. "My last mentee was a mother of three children and had spent eight years on maternity leave. I started mentoring her not long after I had finished my maternity leave. This meant that I could relate to this feeling of not being up to date with everything."
Be authentic. "Talk about your mistakes. It really helps to understand that you are allowed to make mistakes and that it's not the end of your career. It's just a mistake, you move forward and learn from it."
Talk about your feelings. "I know that in tech it's not always commonplace, but talking about your feelings helps to make the mentor and mentee connection stronger."
If you want to join other women in the tech field, check out the
opening positions at Bumble
.