GET EMAIL UPDATES FROM POWERTOFLY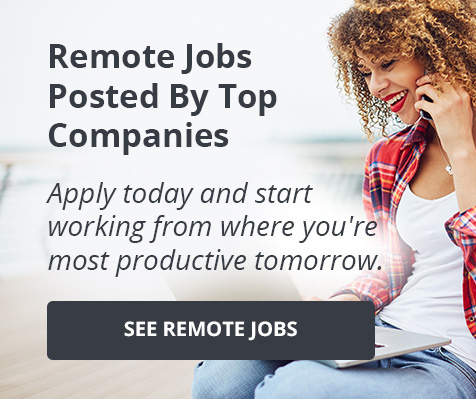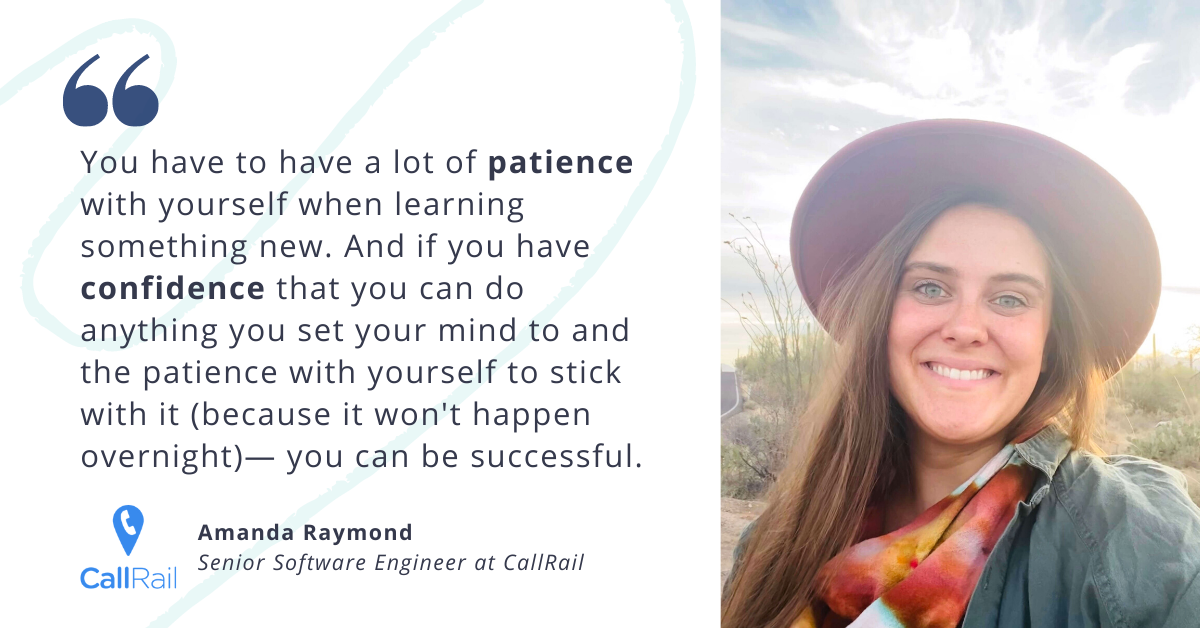 CallRail
5 Tips on Pivoting to a Tech Career with a Non-Traditional Background
Insight from CallRail's Amanda Raymond
If you ask any of Amanda Raymond's friends, family members, or colleagues, they'd all agree that she embodies living life to the fullest.
The Staff Engineer at CallRail is currently exploring the great American outdoors in a custom camper which doubles as her portable office. And when she's not showcasing her coding skills at work, she's busy exploring, kayaking, solo hiking, or making repairs on her house with wheels. "Everyday something breaks, so I'm learning how to be an electrician, learning how to be a plumber, and everyday I have to learn something new," she says cheerfully.
This roadtrip is a full circle moment for Amanda because, just over 8 years ago, after quitting her job as a biochemist, she set off on another cross-country trip that reconnected her with an old friend who introduced her to an opportunity to change her career trajectory by joining a coding bootcamp.
"Coming from a biochem background, you had to have a certificate on a wall with a high degree to get through a door. I had a bachelor's, I didn't have a Masters, I didn't have a PhD," says Amanda. "I knew that I wanted the freedom of a career in Tech and the lifestyle of a coder so I took a leap of faith." And she dove headfirst into a full-stack web development bootcamp. That leap of faith has helped her transition from a job in science that she wasn't passionate about and grow a fulfilling career that allows her the freedom and flexibility with a company that embraces her adventurous spirit.
We sat down with Amanda to hear more about her career journey, and to gain some unique insight on starting a career in technology with a non-traditional background. Keep reading for her top 5 tips for breaking into a career in technology.
Tip 1: Acquire the Skill Set: Join a Bootcamp or Use Online Resources
Amanda's journey began when she attended a coding bootcamp. "At the time I joined, the whole concept of coding bootcamps was new," she explains. "So a lot of people didn't know what bootcampers were." But nowadays, bootcamps are one of the most popular ways to learn how to code and, like for Amanda, they serve as a great foundation for career pivoters to break into the world of tech.
Amanda highlights the fact that you don't have to have a degree in computer science to start working in tech. Career pivoters have valuable experiences, perspectives, and transferable skills that can be hugely beneficial for companies. Amanda sees having a background in something other than tech should be seen, "not as a disadvantage, but as an advantage."
But bootcamps aren't the only way to accelerate your learning, especially considering the financial investment required for these intensive courses. "There are so many free resources out there," Amanda elaborates. "If you have the discipline to teach yourself, you can listen to podcasts, you can do tutorials online, you can watch YouTube videos, the possibilities are endless. Information is free on the internet these days and so at the end of the day, if you're trying to see if you wanna go into tech, I would say immerse yourself with that information."
Tip 2: Network to Build Personal Connections!
When it came to finding a job, Amanda eagerly recommended networking. "My advice to people going into transitioning into tech is to go to meetups consistently, but don't go with the intent of getting a job," she warns. Instead, she advises to focus on making connections, and the professional opportunities will follow. "Get to know people, be excited to be there, be motivated to learn, and be curious about the people that you're meeting. Because at the end of the day, a lot of people just want to work with people that they get along with." Amanda secured her first major tech job at a small startup via a networking event. Her connection with a friend of a CTO of a local startup led to an interview, her first job in tech, and a "forever mentor."
After a bustling three years of learning under the wing of that CTO, Amanda was ready for the next learning experience via a different lane in the tech industry. "The fervor and energy surrounding 'startup life' was incredibly rewarding and insightful for my apprentice-like mind for 3 years, but eventually proved pretty taxing," she explains. " I was excited to dig into the next phase of my career transition at a larger company.." So, once again, she utilized her network to transition from her startup to a position in CallRail. "Some of the CallRail admins had previously worked for the same startup I was currently working at, and my CTO advocated for me as a reference to let them know I was going to apply.". She started her journey with CallRail in 2017.
Tip 3: Leverage your Transferable Skills
When pivoting into tech, your transferable skills will help you bridge the gaps that you might be missing with education. In fact, they can also give you a leg up on your colleagues. In Amanda's case, applying the scientific method to coding came as a strength. "I use it daily at work for solving problems," she explains. "It comes down to observing a problem, researching the topic, proposing a hypothesis, running an experiment that can test that hypothesis, analyzing the results, and then reporting the conclusion."
Having an idea of how your prior skill sets can be applied in your new career is an interview must. Being prepared to explain your non-traditional background can help employers better understand who you are and what you can bring to the table.
Tip 4: Find the Right Work Environment for You
One of Amanda's favorite aspects of working at CallRail is that the company prioritizes employee passions. "CallRail is a place where, if you are passionate about something, then they will do whatever it takes to help you to do it. They want people to be passionate about what they're working on." And that doesn't just mean in the workplace. In fact, Amanda credits her current lifestyle to CallRail's trust and willingness to provide remote opportunities post-COVID. "Not many companies would be okay with what I am doing, but CallRail has been very supportive. My manager has, from the very beginning, been supportive of this track for me."
Having a sense of support and trust at work translates to overall happiness and wellbeing. "At the beginning of my mobile office journey, I asked my manager to please let me know if I have a decrease in work efficiency, and that I would promptly adjust," she explains. "And my manager responded with,, 'If anything, we think that you are going to do better work because you will be happier.'"
To find the best work environment for you Amanda recommends doing your research on company values and culture and asking questions to make sure the company is a good fit. "When you're interviewing for a job, they're not just interviewing you, you're interviewing them to see if that's a place where you can thrive." She further explains, "At the beginning of your career transition into Tech, you want to find an environment that celebrates where you are currently in that journey and provides you with tangible resources and guidance to take you to the next level."
Tip 5: Build the Right Mindset
In order to best succeed in this field Amanda highlights three mindset shifts she believes led her to success.
Be patient with yourself. "You have to have a lot of patience with yourself when learning something new. And if you have confidence that you can do anything you set your mind to and the patience with yourself to stick with it (because it won't happen overnight)— you can be successful," says Amanda. "The patience to stick with myself and continue to believe in my abilities during challenging times was my map to transitioning into tech."
Get comfortable not always having the answer. For Amanda, starting a career in tech requires accepting that you will need to be a continual learner. "I think that being in tech is kind of like being on a constant roller coaster of newness and learning. That journey never ends, and you have to kind of be okay with that and then get good at it," she explains.
Be passionate and coachable. As the previous point suggests, teachability is a trait that any career pivoter needs to embrace. During her time as a coding instructor, she noted that the most passionate students were the most likely to succeed, saying "What I saw as a teacher and as a mentor is that the people that were truly passionate, in a way that was contagious, were able to succeed by constantly communicating and staying humble, yet eager to tackle the rigorous process of learning."
Are you ready to pivot into tech? Click here to check out CallRail's open positions.