GET EMAIL UPDATES FROM POWERTOFLY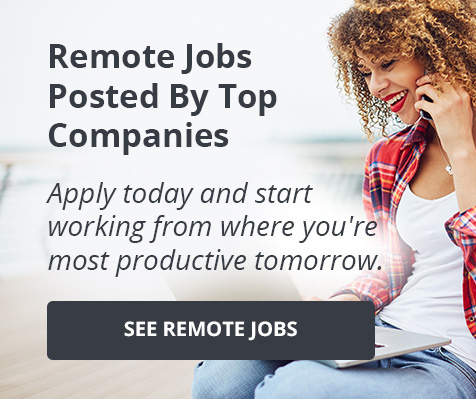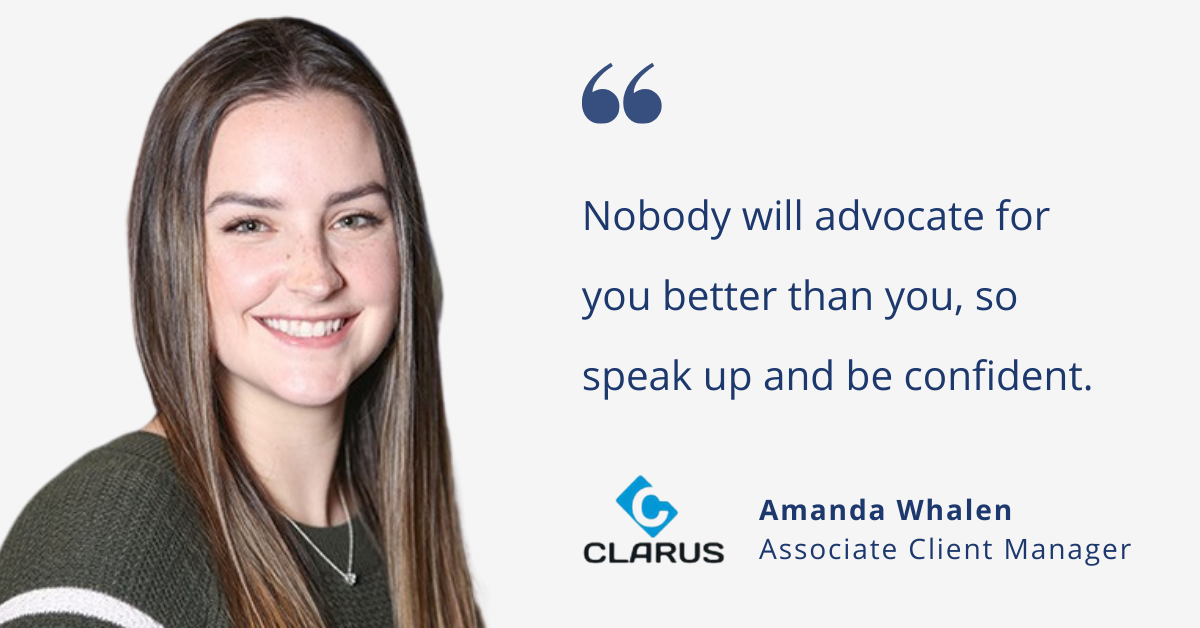 Clarus Commerce
Clarus Commerce's Amanda Whalen on Making Her Place as a Young Woman in Business
"You have to take risks," says Amanda Whalen, referring to her green but so-far successful career.
It all started at a Women in Business event at the University of Connecticut, when Amanda heard a top woman leader speak about the challenges of being a woman in business. Knowing she wanted to have a role in the business world, Amanda was not deterred but rather inspired by this example of someone who used her talents to overcome those very challenges and reach such an important position.
Today, and only a few years after that one event, Amanda Whalen is making her place in the business world as Associate Client Manager at Clarus Commerce. We sat down with her to hear her story and advice for other young women in business.
Connection as a Pathway to a Career
Amanda has always enjoyed connecting with people, whether that's hanging out with her friends at live music events in her small town of Somers, Connecticut, serving customers in her family's Italian restaurant on the weekends, or chatting with her coworkers on office days at Clarus.
This love for connection drew her to study Business Management as her major and Communication as her minor in college. "I picked something that was going to be helpful for me in the future, as well as something that I would enjoy."
Knowing she wanted to explore different ways of using her business and communication skills, Amanda began looking for opportunities in college to gain experience. When Amanda found out about an internship at Clarus through a friend, she didn't hesitate to apply.
"I wasn't completely sure of what I wanted to do or the path that I wanted to go down. Especially being so young in my career, I didn't want to be tied down to just one thing. My friend said that the team he worked with opened so many doors for him and that he was able to explore many different departments to get an understanding of what he does and doesn't like. And that was exactly what I was looking for."
Amanda joined Clarus Commerce during her junior year of college as a sales intern and hasn't looked back since.
Exploring Different Fields of Business
"I worked part-time at Clarus during my senior year and was offered a full-time job in February," Amanda explains. She was hired three months before her actual graduation date and was the youngest person to join the company. Clarus Commerce supported Amanda as she began working for them while simultaneously finishing up her studies and dealing with the pandemic.
Since joining Clarus, Amanda has had the opportunity to work in multiple sectors. "I'm known as the Clarus Encyclopedia because I've done a little bit of everything," she laughs.
Amanda started in sales and then transitioned into the product team where she helped manage their sites and make sure everything was working properly. "I then moved over to the client services team and with every role that I took, I moved a step up. So I started as an intern, then went to a coordinator, and now I'm an Associate Manager."
Amanda emphasizes her appreciation for the clear trajectory and many opportunities for growth in the company. "They make your growth their priority. It's very well-known that they want you to succeed. We have growth opportunities and plans so you know that you're on the right track and mentors that can help you get to that next level."
The Challenge of Being a Young Woman in Business
"Clarus is ahead of its time when it comes to having women in leadership roles," says Amanda. One of the main things that attracted her to the company was the fact that she got to talk to so many women VPs when she was interviewing.
"I think it's huge to show what the company stands for and the trust that they have. So that's something that drew me to them."
However, Amanda still acknowledges the common challenge of breaking the glass ceiling. "I think it's always a challenge no matter if it's physically presented or not, you have to work towards that because it's always subliminally there."
Amanda navigates this challenge carefully. Knowing that she is the main point of contact for many of her clients, she ensures that her relationships are maintained and that many of the stereotypes that may come along with being a young woman are not a factor in her work, such as stereotypes on womens' emotions or communication styles.
"I think you have to prove yourself. Make it known that you are prepared, you are ready, you're hardworking, and your work ethic is strong." Overall, Amanda appreciates how Clarus Commerce conquers these issues. She says, "Everybody at the company has the same mindset, everybody wants to succeed."
7 Tips to Make Your Place As a Young Woman in Business
Amanda wants to continue finding ways to help others succeed, especially young women like her who may not yet have experience in the field. She shares these seven tips for making your place as a young woman in business:
Learn to effectively communicate. "Speak confidently and be clear when sharing your ideas."
Be a team player. "You have to be the one to be able to say, 'I will help out wherever I need to, let me know what else I can do'."
Active listening. "Instead of immediately responding, take a step back and say, 'Okay, I hear what you're saying, How are you feeling? What would you like to do?' Getting those active listening skills is huge and very underrated."
Find other women leaders in the field. "Find women leaders that can help you, either indirectly through their stories, or directly through advice and mentorship."
Take risks. "It's important to take risks and walk towards challenges, no matter how hard they may be."
Assert yourself and speak up. "Nobody will advocate for you better than you, so speak up and be confident."
Networking is your best friend. "I don't think I would've been able to grow as much as I did if it wasn't for the people that I've met and the opportunities that they presented me with."
Are you interested in finding out more? Check out Clarus Commerce's roles
here
!