GET EMAIL UPDATES FROM POWERTOFLY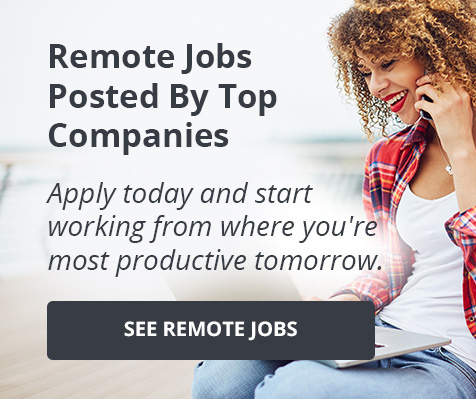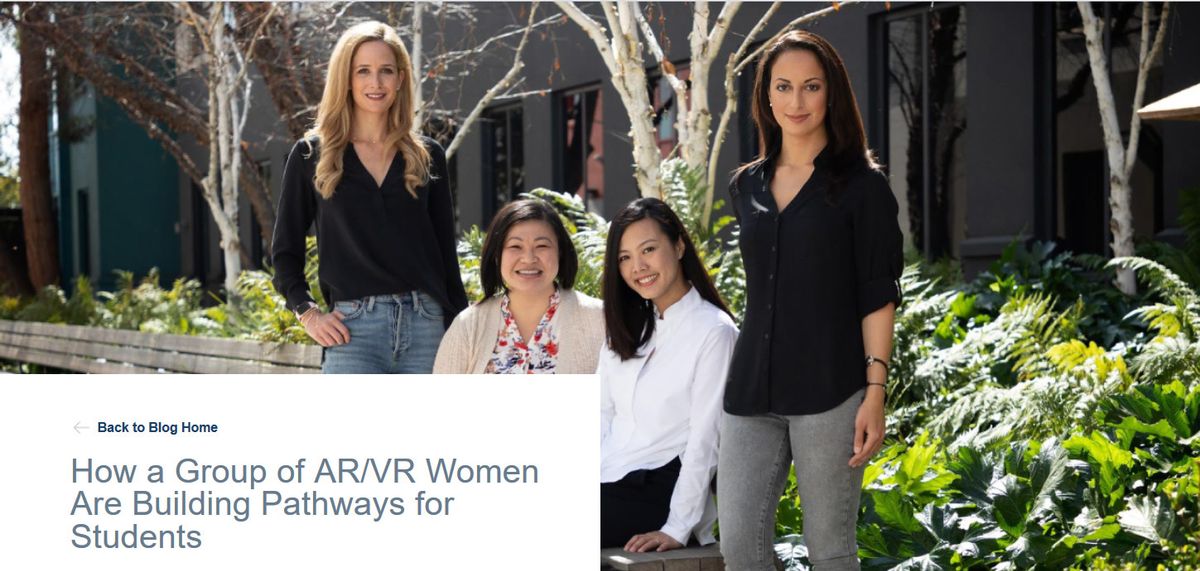 Meta
"How a Group of AR/VR Women Are Building Pathways for Students"
Below is an article originally written by PowerToFly Partner Facebook, and published on March 30, 2020. Go to Facebook's page on PowerToFly to see their open positions and learn more.
How did the unique life experiences of four different women lead them to create opportunities for students from diverse socioeconomic backgrounds? Sun C., a supply chain manager at the Facebook company, was the first in her family to get an education beyond primary school, and nothing stopped her from achieving her dream. Ruth B. started life in an orphanage during the Lebanese Civil War. She was later adopted by an American couple who helped her find her true life passion—giving back to her community. These women would eventually meet Elisabeth M. and Jocelyn C. at Facebook, where they would harness their collective passions to create programs that help underrepresented students.
The Women of AR/VR Steering Committee empowers and enables women on the Augmented and Virtual Reality (AR/VR) team at the Facebook company by building and developing an inclusive community through professional development, peer support, and community outreach. Its Education Committee, led by Sun C., Ruth B., Elisabeth M., and Jocelyn C., focuses on curriculum and educational programs for girls, under-represented groups, and under-resourced students who are interested in careers in tech and gaming.
The Education Committee collaborates closely with community organizations, schools, and nonprofits. Committee members also volunteer outside of their regular work hours and host students on campus for workshops, hackathons, career panels, and tech talks. Working cross-functionally with teams from hardware, software, operations, and creative, the committee aims to share not only career achievements, but also obstacles and hardships.
"We want students to understand that there are many different paths towards a career, which can be as unique as a person's personality. Sometimes, the road to success isn't always easy, linear, or straight-forward. There can be many obstacles and unexpected turns and twists, but with hard work, dedication, perseverance, and resilience, they can achieve anything they set their minds to," says Sun C.
In February, the Education Committee hosted its seventh career day event. They brought together students from a Bay Area middle school with Facebook software engineers, program managers, electrical engineers, designers, and product researchers for a day of workshops and presentations on a variety of topics. Students learned how to identify and combat cyberbullying, talked about different career journeys, heard how products and games are designed, and experienced an Oculus Go demo first hand.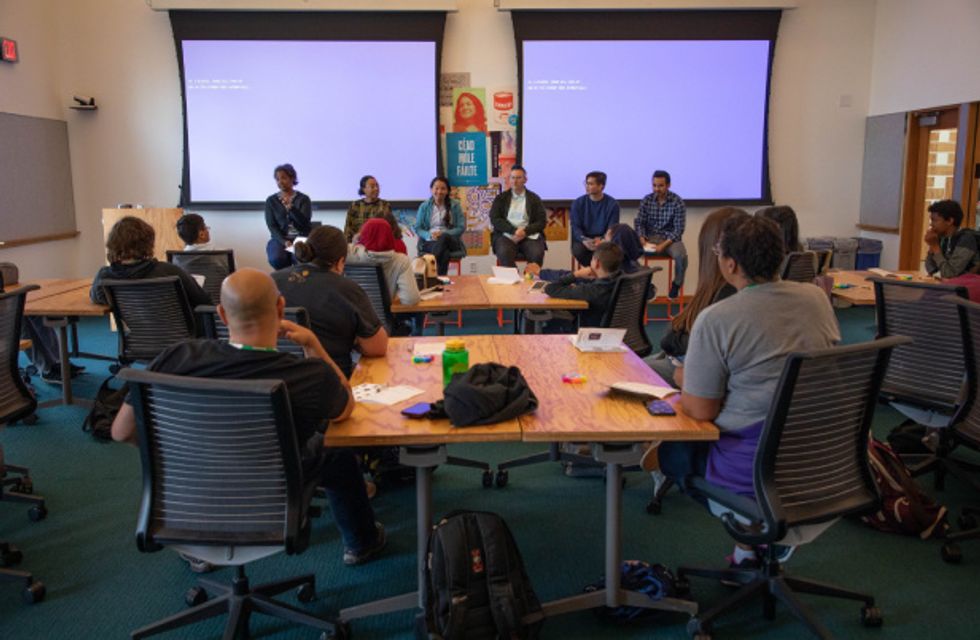 Local students learning about employee perspectives at our career outreach day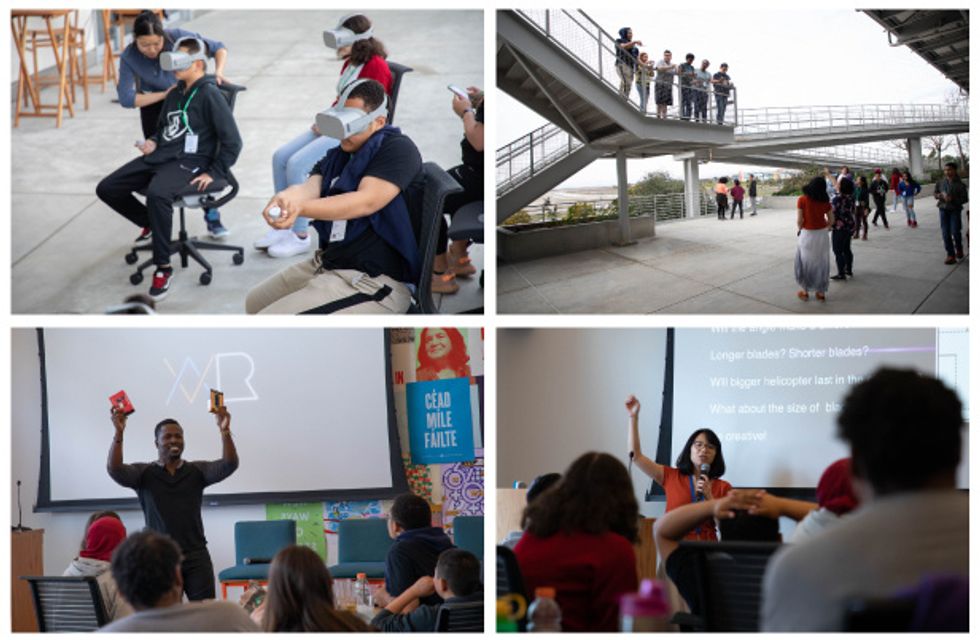 Students participate in VR demos, panel discussions and lunch and learn sessions during our career outreach day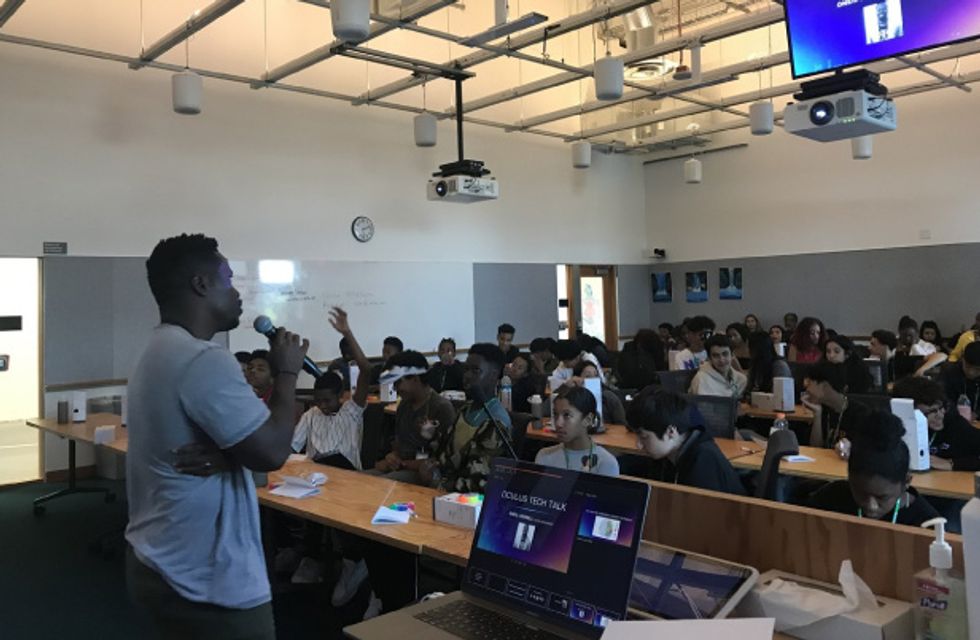 Level Designer Oneil H. speaks about game design to high school students from the 100 Black Men of Silicon Valley organization.
Each of the founding members has a unique background that has shaped their identities and paths. Read on to learn more about their journeys.
Sun C.: Empowered by her own education
Sun immigrated to the United States with her parents from Cambodia in 1979 with only the clothes on their backs and big hopes of achieving the American dream. Although Sun's parents were only able to attend primary school before the war and genocide broke out in Cambodia, they understood the importance of education as a mechanism for opening doors to opportunities that were not available to them. Sun became the first person in her family to attend college—earning both bachelor's and master's degrees from UCLA in 2000 and UCSD 2004, respectively. Prior to joining Facebook, Sun worked at several other major tech companies. Today, she has more than 13 years of experience managing overseas factories in China and launching new consumer electronics products in the global marketplace. She joined the Oculus team in 2016 and is a supply chain manager.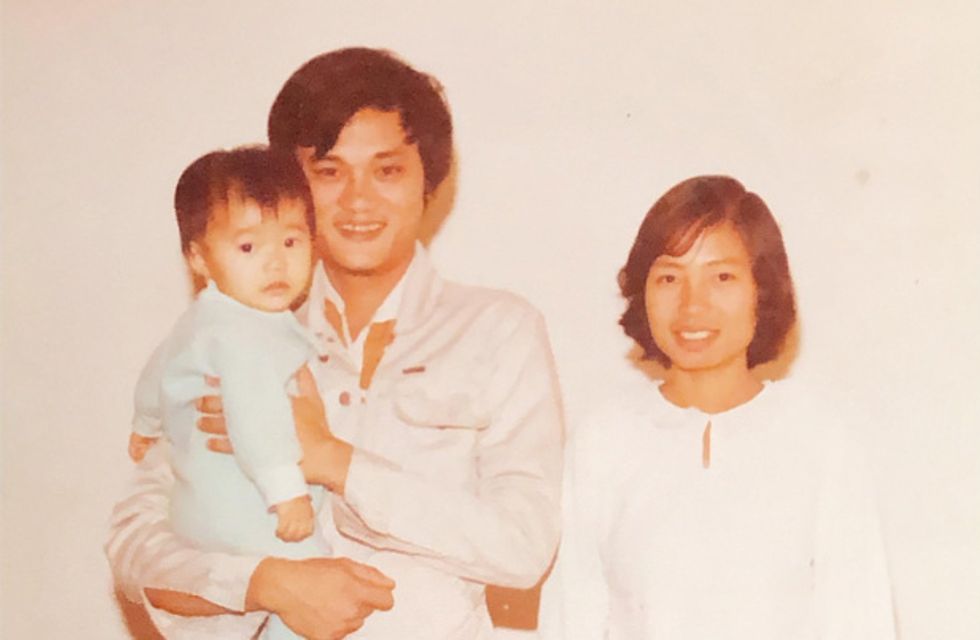 Sun with her parents after recently immigrating to the US as refugees from the "Killing Fields" of Cambodia in 1979.
Ruth B.: Sharing her gift of music and mentorship
Shortly after she was born during the Lebanese Civil War, Ruth was placed in an orphanage and was adopted by an American couple who helped her realize her musical gifts and pursue her extracurricular passions—giving back to those who need mentorship, support, and motivation to get through school. Ruth took her songs and guitar on the road and visited K-12 classrooms for four years, encouraging students to stay in school. She also developed a program that was promoted within the Miss America Organization, giving her a larger voice to help more students in need.
While completing her bachelor's and master's degrees at Stanford University, Ruth joined Oculus in 2014. She is a game and entertainment producer working to build the future of AR/VR content and has worked on a variety of successful games at Oculus, including notable titles like Dance Central, Marvel Powers United VR, as well as The People's House, which won an Emmy in the category for 360 VR film.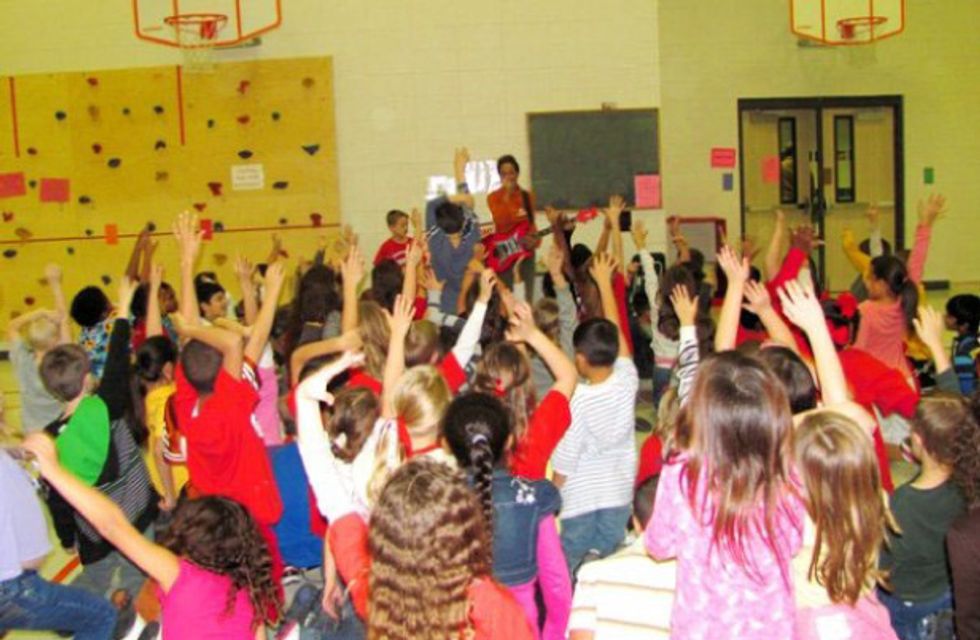 Ruth presents her music program in a Texas elementary school.
Elisabeth M.: Experienced the power of education first-hand
From a young age, Elisabeth loved spending time volunteering and tutoring at schools. She saw the power of education first-hand while working as an English as a Second Language (ESL) tutor in high school and college.
In 2018, Elisabeth joined Oculus to lead Sales Strategy & Operations. In her role, she focuses on building strategic plans and processes to drive Oculus and Portal sales growth for the AR/VR Global Sales organization. Elisabeth regularly dedicates time outside of the office to an organization called YearUp, where she empowers young adults from non-traditional backgrounds to build careers in tech.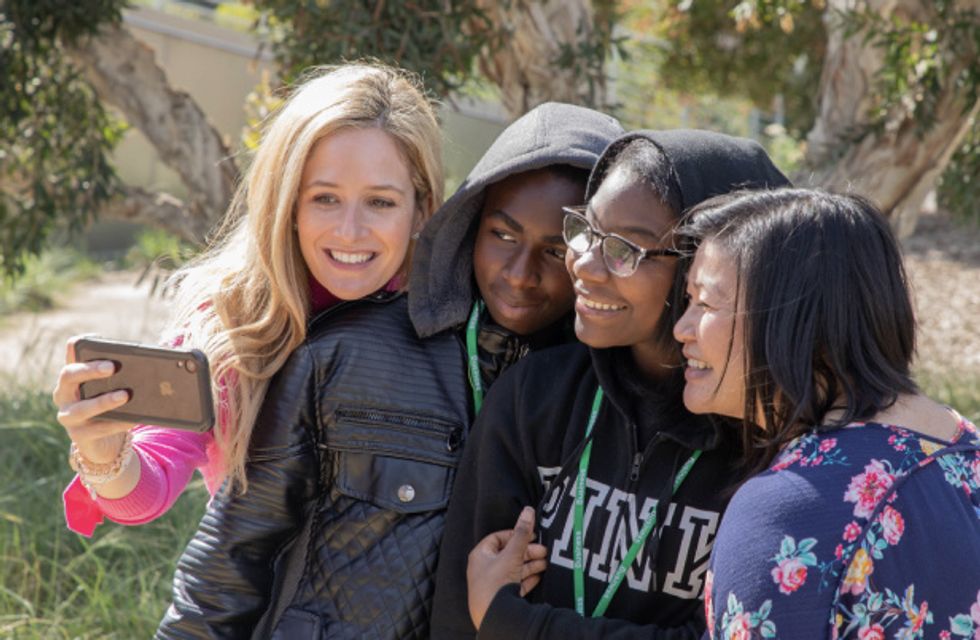 Elisabeth (left) and Sun (right) with students during a Facebook campus visit.
Jocelyn C.: An appreciation for art and creativity
A few trips to California and a growing fascination with the diversity of Silicon Valley inspired Jocelyn to move from Asia to the San Francisco Bay Area. Born and raised in Taiwan, she founded a small company that developed database software in 2014—but she saw more promising business development and fundraising opportunities in the United States.
Jocelyn joined Oculus in 2017 as a strategic sourcing manager. Today, she develops and maintains relationships with contract manufacturers that build Oculus' AR/VR hardware, ensuring products are built with superior quality at a competitive cost. Coming from a country where the education system focuses on exams and homework, Jocelyn appreciates programs that promote art and creativity. She's happy to have the privilege to give back to the community. Most recently, she helped organize a Game Design and Leadership Day, an Education Committee partnership with the Girl Scout of West Washington, where girls ages 11 to 13 learned how to program.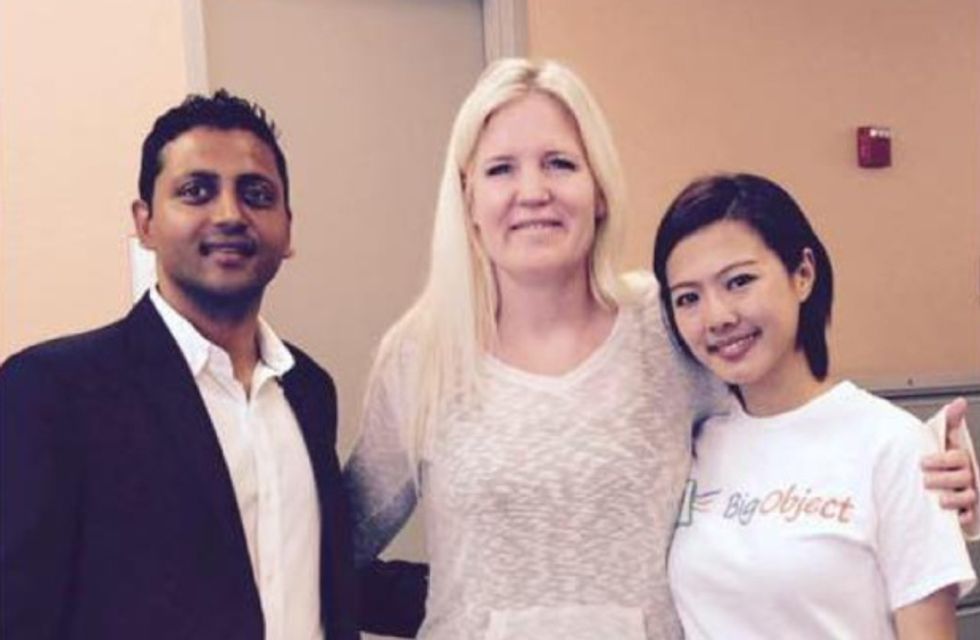 Jocelyn (right) at a start-up workshop in 2015.
Diversity and inclusion are incredibly important values at Facebook. As a company, we spend a lot of time discussing, building, and creating opportunities for diverse perspectives both here and in the tech industry overall. There are many different ways to approach and address this issue. The Education Committee's approach is to start early, by reaching out to students in diverse socioeconomic areas and giving them a glimpse at how hard work, dedication, perseverance, and resilience in education can take them far in life.
Stay Connected!