GET EMAIL UPDATES FROM POWERTOFLY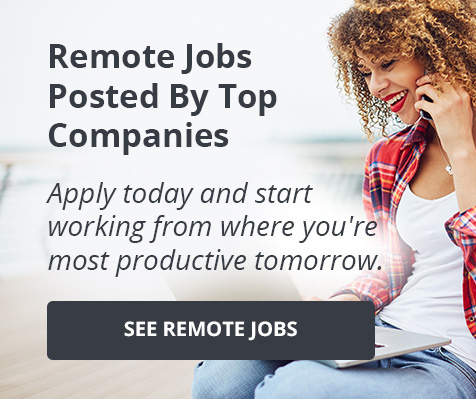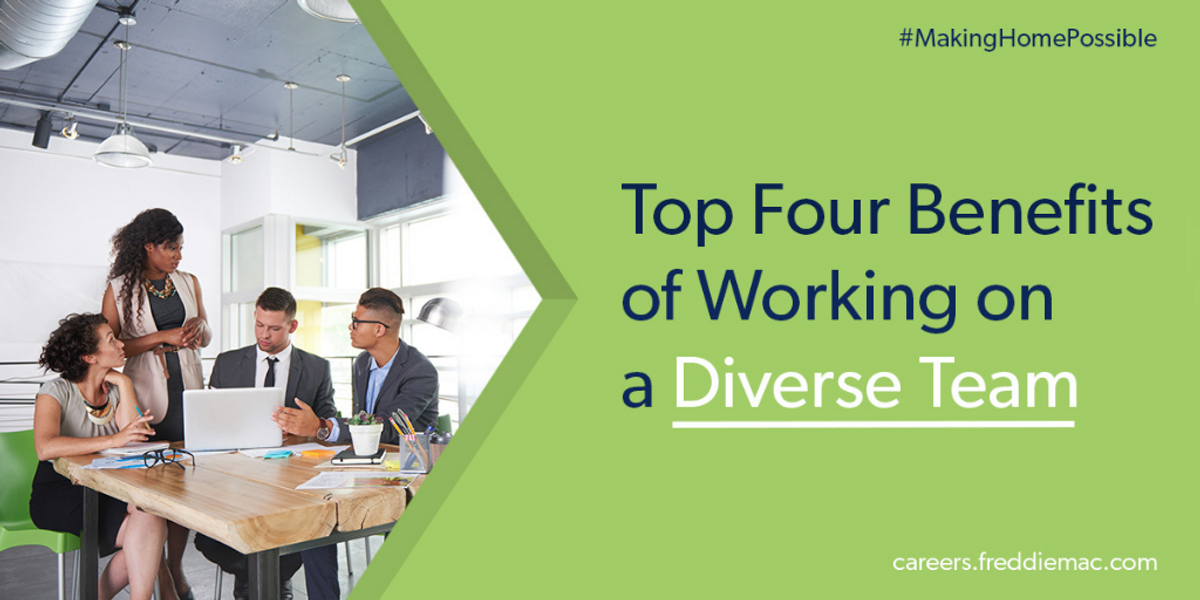 Freddie Mac
Top Four Benefits of Working on a Diverse Team
Below is an article originally published on the FreddieMac blog. Go to FreddieMac's company page on PowerToFly to see their open positions and learn more.
At Freddie Mac, embracing differences and engaging with respect and positivity is part of our culture.
Not only that, but a diverse workforce — one made up of different sexualities, genders, ages, races, experiences, cultural backgrounds, religions, disabilities and more — is a pillar of Freddie Mac. When looking for jobs, 76% of people consider a diverse workforce to be an important factor in their decision, and for good reason. Here are four benefits you gain from working on a diverse team:
#1: Diversity Inspires Creativity
A diverse workforce brings diverse perspectives. Different ideas and approaches to work increase the overall creativity of a team, which can increase innovation. In fact, research shows that diversity of thinking can enhance creativity and innovation by as much as 20%. The different worldviews making up Freddie Mac allow employees to find new and exciting solutions every day.
Quan Hoang, the director of creative services, leverages the diversity on his team to produce some of Freddie Mac's most creative work.
"I love Freddie Mac's diverse culture because it's one where everyone is respected, and their perspectives are listened to," Hoang said. "We structure our creative team to be the same. We're inclusive with how we approach work by incorporating diversity into our team or sharing the work with a diverse group before we bring it to market."
#2: Diversity Promotes Open Communication
Open communication is both a necessity and a benefit of a workforce made up of varied perspectives and backgrounds. It ensures that team members share a level of understanding on processes, expectations and protocols.
One of our core pillars at Freddie Mac is "communicate with candor," meaning we prioritize our employees leading conversations with open minds and respect. This practice often leads to closer bonds, higher levels of trust and increased collaboration among teams.
Michele Townes is a marketing and communications senior manager and the communications lead of ARISE, Freddie Mac's business resource group that builds community and support for employees of the African diaspora. She's also a single mom who appreciates the ability to openly talk about work flexibility in the workplace.
"It encourages real conversations around how we can meet during a time when I have to pick up or drop off my son to the bus stop," Townes said. "We work together as a team to be flexible and fill in for one another where needed. These conversations may not have been top of mind for colleagues if the team wasn't as diverse."
#3: Diversity Improves Conflict Resolution
Occasional conflict in the work environment is inevitable, so it's important to join a team where members respect one another and value conflict resolution.
Diverse team attitudes, experiences and perspectives on business practices can also help teams collaborate to lower risk and improve outcomes. Additionally, inclusive leadership has been shown to lead to a 29% increase in team collaboration, making conflict resolution more achievable.
"I worked on a cross-functional project team where there was a lot of diversity of thought in addition to physical diversity," said Tinesha Richardson, manager on the Equitable Housing team in the Single-Family division and co-chair of ARISE.
"We were able to work together and bring our individual talents, experiences and whole selves to the table to solve a problem efficiently. That is what is great about Freddie, you will get the chance to work with different people every day, learning and growing along the way."
#4: Diversity Encourages Cultural Awareness

Workforce diversity helps reduce stigmas and stereotypes. The inclusive culture at Freddie Mac allows employees to engage with differences in a respectful, positive and educational manner. Freddie Mac's voluntary employee-led business resource groups offer unique opportunities for learning, networking and growth while fostering an inclusive workforce and cultural awareness.
"Business resource groups are one of the best ways to increase awareness through education, relationship building and experiential immersion," said Marlon Yander, manager in the Office of Inclusive Engagement.
Freddie Mac's diverse workforce leaves space for every employee to succeed and have a voice. If you are ready to take the next step in your career journey, join our diverse workforce today.