GET EMAIL UPDATES FROM POWERTOFLY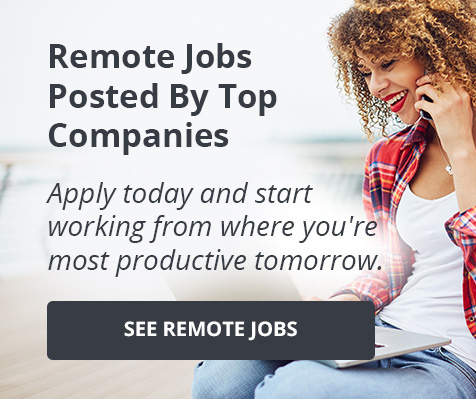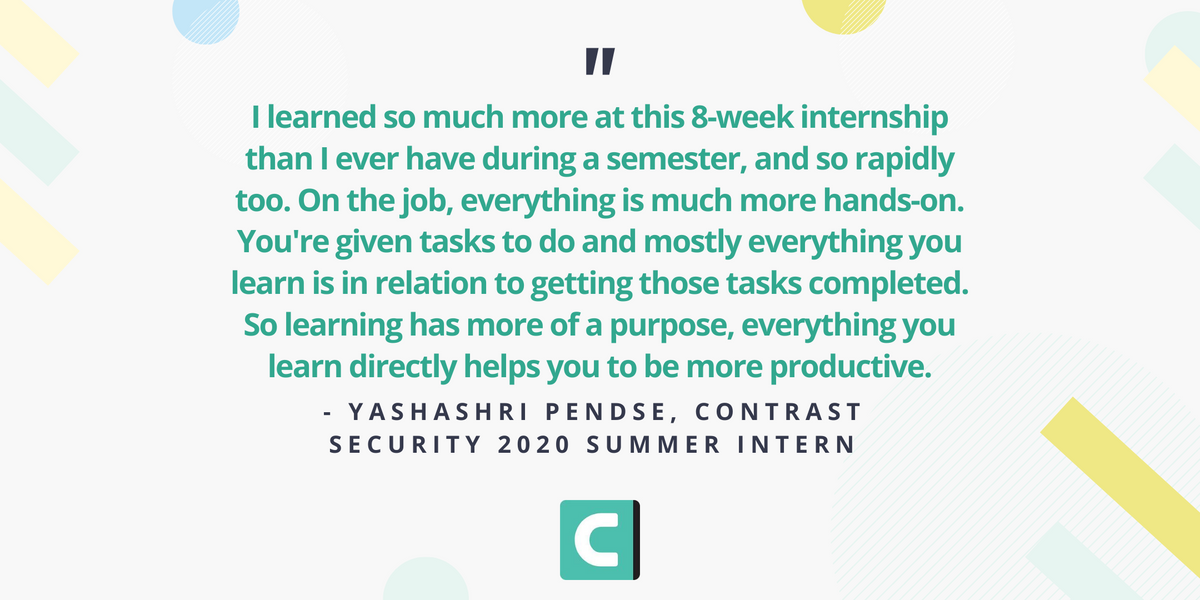 Contrast Security
How to Succeed as a Contrast Security Summer Intern (Remote or Not!)
Contrast Security's summer engineering interns usually work from their kitted-out Baltimore, Maryland office, doing their projects side-by-side with full-time employees and enjoying onsite perks like free lunch.
---
As you may have guessed, that wasn't quite the case for 2020's summer interns.
With a pandemic closing offices and halting travel, Contrast Security, the world's leading provider of security technology for self-protecting software, had two options: to either cancel their internship program or to adapt it.
They knew that they wanted to keep their commitment to their incoming interns and provide a meaningful experience despite the challenges of doing so at a distance, so they dug in and figured out how to mentor, teach, evaluate, and build community remotely, while also conveying the Contrast Security values and culture over a shortened eight-week timeframe.
We talked to three members of the Contrast Security 2020 summer internship class about what it was like to do an engineering internship completely remotely and what advice they have for future interns. Read on for their wisdom.
On adjusting from coursework to real work
Even with a non-remote internship, working on projects with practical applications would've been something new for Melissa Shohet, a computer science and applied mathematics and statistics student at Johns Hopkins University and one of Contrast Security's summer interns. "When you write code for a homework assignment, it's rarely held to a standard higher than 'does it work?'" explains Melissa. "Efficiency and organization are rarely a factor, not to mention most coding assignments are not applicable to the real world."
Contrast Security's interns worked on real-life projects assigned and managed by a combination of the VP of Engineering, an agile project manager, and tech leads. Elizabeth Mathew, a recent computer science grad from John Hopkins University and summer intern, explains the difference between her coursework and her project work: "In school, I mostly just learned CS concepts in a variety of areas and never had experience with installing and using different types of software. Very rarely, if ever, would I source a .bash_profile, git branch off a main repo, or write some bash scripts in school. The hands-on experience I got as an intern makes me feel like a real software engineer. Also, I thought it was really cool that the interns could work so easily with AWS resources. We do not usually use technology like that while studying computer science."
Melissa agrees with Elizabeth on the benefits of getting on-the-ground experience in a real workplace. "[In our internship,] we were able to get used to using Docker, something I've been told is widely used in software engineering, yet untaught in school. We also rarely work in teams [in school], yet the world of software engineering is primarily team-based," she says.
Yashashri Pendse, a computer science student at the University of Maryland, says that those real-life skills are invaluable. "I'm a lot better at reading—reading documentation when learning to use a new sort of technology, reading logs when I'm trying to understand why I'm getting an error, and reading through and understanding other people's code. I learned how to work more independently and solve problems," she shares. "I learned so much more at this 8-week internship than I ever have during a semester, and so rapidly too. On the job, everything is much more hands-on. You're given tasks to do and mostly everything you learn is in relation to getting those tasks completed. So learning has more of a purpose, everything you learn directly helps you to be more productive."
On connecting with a supportive team, even remotely
After interviewing at Contrast Security's office months before her internship was set to begin, Elizabeth was excited about the culture of the place where she'd be spending her summer. "The interviewers were so encouraging," she says. "I could already tell that Contrast Security doesn't just focus on specific prior experiences of their engineers, but also on the engineer's potential and interests. I really liked the supportive and engaging work environment I felt while visiting the office."
Yashashri also chose to intern at Contrast Security because of the culture she experienced during her interviews—"everyone was so kind and welcoming," she remembers—and was happy to see that culture kept alive even through different means. "I think that Contrast made the best of a less-than-ideal situation," she says. "The people and the work the company does are awesome. I never thought it was possible for literally everyone at a company to be so wholesome. The vibes are immaculate."
Elizabeth was worried that a collaborative environment would be harder to tap into while working from home, but that wasn't quite the case. While there were times she was confused on how to start a new project, Elizabeth says she was always able to get the help she needed: "I loved how all the engineers at Contrast made an effort to always be available to help us interns. No matter who I reached out to across the company, everyone would respond so quickly and would hop on a Zoom call at a moment's notice to answer any questions."
Melissa had a similar experience. "I was really worried I wouldn't learn as much or get a good sense of Contrast Security as a company [by interning remotely]. It turns out both of those fears were unfounded," she says. "From the very beginning, the people were super friendly, and it really seemed like the kind of environment I wanted to work in. Every employee we met said that all we had to do was message them, and they'd be happy to help with anything. Not to mention we had not, one, not two, but three mentors, plus many other employees who really wanted to meet with us and try to teach us as much as they could. I couldn't have worked for a more supportive company."
On their best advice for other interns
Yashashri, Melissa, and Elizabeth were full of wisdom to share with future Contrast Security interns looking to make the most out of their summer experience. Here are their takeaways:
"Be a sponge," says Yashashri. "Everyone at Contrast is so knowledgeable and there's so much to learn. Take advantage of that.
"Don't be afraid to ask questions," says Melissa. "You're here to learn. Don't be scared if you don't know how to do something, because learning is the goal!
"And try to ask those questions to different people each time," says Elizabeth. "This way you can always move forward with your work while meeting new people."
"It's ok to be completely lost and feel as if you don't know anything. In fact, it's natural!" says Yashashri. "I learned that inexperience could provide valuable insight by giving a fresh perspective. I learned that everyone is always learning. I learned that being confused and lost shows that you are going down the right path because you realize you have more to learn and you now know where to look."
Despite the hard work, putting your all into the internship will be well worth it, says our panel. "Working at Contrast has been the most rewarding experience I have had so far in computer science," says Elizabeth. "The people at Contrast Security truly care about you and your interests, not just how well you may perform."
We'll let Melissa have the last word on what students interested in Contrast Security's internship program should do next: "Apply! You will learn so much, in a supportive and encouraging environment. The work you'll do is really interesting, you'll solve real world problems, and the people are fantastic!"
Related Articles Around the Web