GET EMAIL UPDATES FROM POWERTOFLY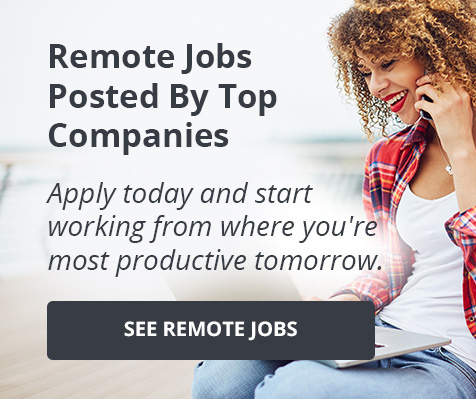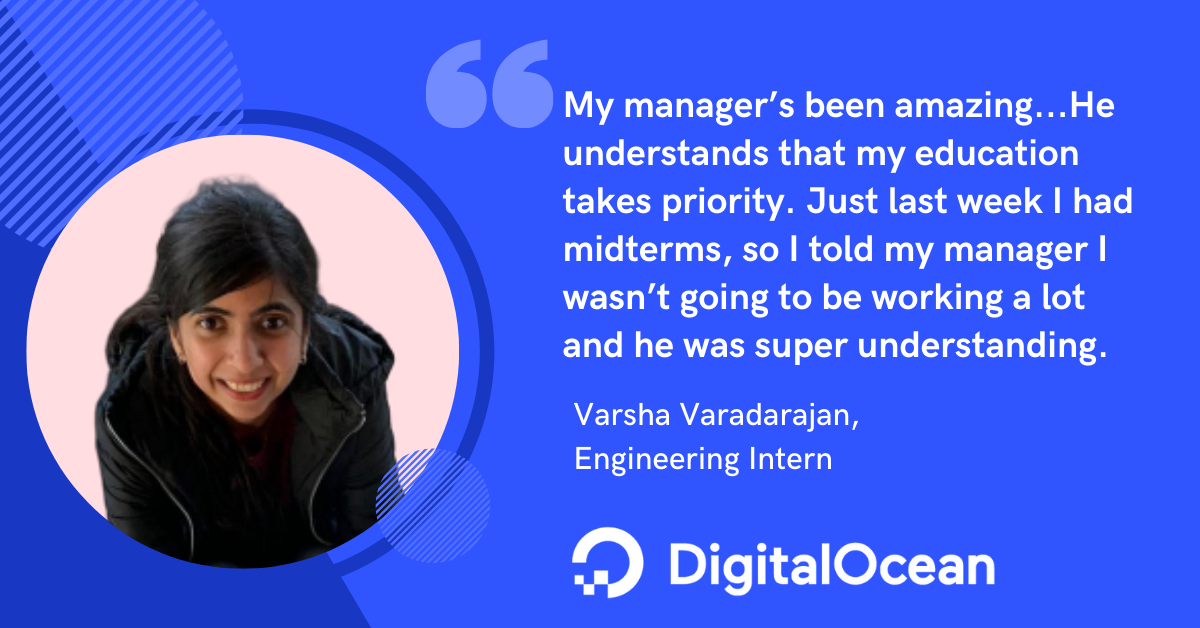 DigitalOcean
From Summer Intern to Conference Speaker: A Q&A with DigitalOcean's Varsha Varadarajan
When you're a student, having a meaningful summer internship lead to a full-time offer after graduation is typically a "best-case scenario."

But what if you could intern at a remote-reliant, flexible company over the summer (and get the chance to talk about your work at a major conference!) and then continue working part-time while you study?
---
That's exactly what Varsha Varadarajan, an MS in Computer Science candidate at USC, has been able to do with cloud services company DigitalOcean. She interned for two months over the summer in their New York Office, and now she's continuing to work remotely as a part-time engineering intern while she studies. She'll be joining DigitalOcean full-time once she graduates, and she's set to present on the tool she worked on over the summer at KubeCon!
We recently sat down with Varsha to learn more about how she balances work and school, why she was drawn to DigitalOcean, and the support and opportunities she's received at this early stage of her career.
If you're looking for engineering internships that will give you the chance to take on real responsibility in a supportive environment, read on to learn why DigitalOcean might be the perfect place for you! And be sure to check out their open roles here.
You must be busy! How are you able to balance grad school and working for DigitalOcean?
My manager's been amazing. He's always told me, "You've only got 20 hours working at DigitalOcean, and we want to do more, but make sure you graduate from school." He understands that my education takes priority.
Just last week I had midterms, so I told my manager I wasn't going to be working a lot and he was super understanding. Some weeks I focus more on my coursework, and some weeks on DigitalOcean.
Why did you decide to intern at DigitalOcean?
I was drawn to DigitalOcean because I was already a fan of the product. [In my previous role], I used DigitalOcean quite regularly. I think the simplicity of DigitalOcean's control panel is really awesome, and their APIs were always very good to work with… When I found the internship on LinkedIn, I knew it was what I wanted—not just using Kubernetes, but providing the underlying service.
What was the most difficult aspect of your internship, and how did DigitalOcean support you?
The project that I was given was separate from the core initially, but then the second half of my internship dealt with me integrating that with the core architectures. There was a lot to learn, quickly. My mentor was fantastic. He told me what was next, what to do if something didn't work, and how to debug something. I wouldn't have done anything without my mentor!
What do you like most about working at DigitalOcean?
Because they deal with so many customers, I get to make a valuable contribution. I like actually operating Kubernetes, instead of just using it. The programming language was also easy to learn, so it gave me the confidence to contribute more.
What's it like to be an intern at DigitalOcean? Is it a formal program?
They have a summer intern program every year. It's great because the previous year's interns are there to support you and help you out informally with anything that you're struggling with.
What has been the most helpful to you in terms of building your confidence at DigitalOcean?
When I joined, I really wanted to contribute something, but I knew that there was only so much I could do in two months. My mentor helped me break down the internship into steps to track my progress and feel like I'd achieved something.
In the second half of my internship, I started getting more involved with the team as a whole. They really encouraged me to express my opinions and participate. They would ask me questions about my implementation to help me get better, but they were always very encouraging. It's not like they'd say, "this is a bad idea," they would just encourage me to consider other solutions as well. Knowing I had their support made me feel comfortable sharing my thoughts and questions with the team, which in turn gave me the confidence to implement solutions.
Why is DigitalOcean a great place for younger engineers to start their careers?
At DigitalOcean, the teams are small enough that you'll be given real responsibility once you show you're ready for it. Additionally, it's a great place to see projects holistically, not just from the perspective of your small piece of the project. For example, when my project got integrated, we met with the UI team, so I got to see the end-to-end flow.
If you were to picture a career for yourself at DigitalOcean 10 years from now, what would you like to be doing?
I would still want to be on the product side. Being our Principal Architect maybe, but I don't know if 10 years is sufficient for that! It'd be really cool to work on something from scratch, usually you don't get to do that.
Last but not least, tell us more about KubeCon! What a great opportunity.
I'm going to be talking about Clusterlint, the tool I worked on as an intern for the containers team at DigitalOcean. We open sourced it, so all Kubernetes developers will be able to benefit from it!
KubeCon is the conference for technologists right now, as Kubernetes has emerged as one of the most popular technologies in the last few years. People for just about every notable software organization attend this conference, so getting accepted to talk there is a huge deal!
DigitalOcean highly encourages all of its engineers to give talks, host workshops, etc. In fact, from my team, one other talk proposal was also accepted!
I just looked at the number of attendees for my talk. It's 355! That's pretty daunting for me as this is the first time I have ever given a talk for such a huge audience. Thankfully, I am pairing with my internship mentor Adam Wolfe Gordon for the 30-35 minute talk. And, my team is incredibly supportive of me. So, hopefully, it goes well!
-----
Interested in doing impactful work at DigitalOcean? Check out their open roles here.