GET EMAIL UPDATES FROM POWERTOFLY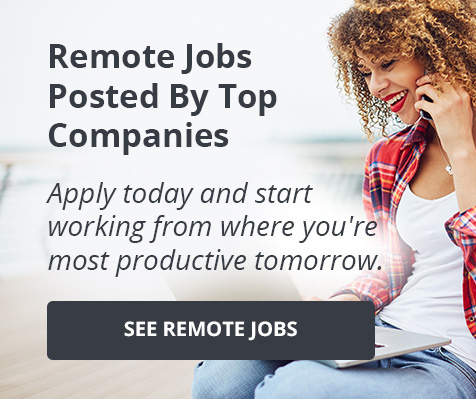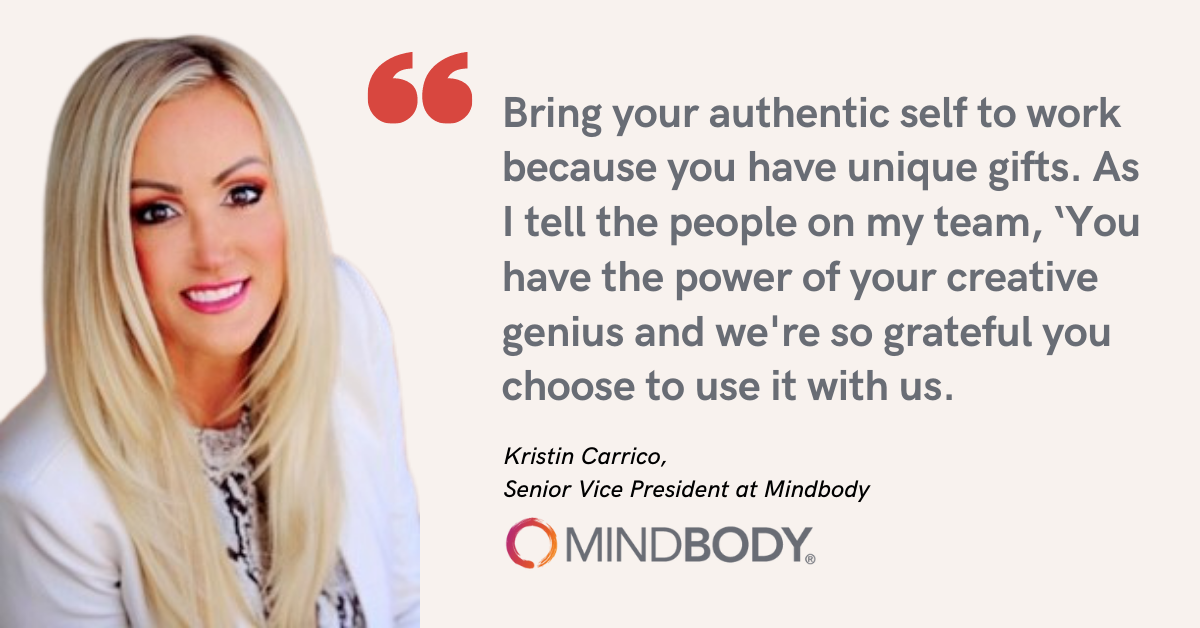 Mindbody
How Mindbody's Kristin Carrico's Leadership Style Is Based on Learning
Plus Her Top 7 Tips for Leaders
Kristin Carrico's belief in continuing education might go as deep as her DNA.
With a CEO father and a teacher mother (and grandmother), Kristin says she learned one lesson early on: "Material things don't matter, but no one can ever rob you of your education. It's a life-long journey."
That attitude towards learning and growth has been key to her fulfilling, decades-long career in leadership. It's what keeps her reaching out to connect with new people, ask questions, seek out new skills, and share her own vulnerability and path to learning with her team.
And it's gotten her to her current post as SVP of at wellness technology company Mindbody.
We sat down with Kristin to hear more of her story, including what lessons have inspired her personal brand of leadership.
A "natural-born leader"
Growing up with older brothers, Kristin had to learn to keep up, she says. "From a very early age, I knew I could be tough. I have always had a strong self-confidence."
While she tried her hand at teaching in college, it was her leadership and logical planning skills that spiked on a career aptitude test. Kristin studied organizational leadership in college, and graduated with three job offers.
When it came time to choose which to accept, Kristin took her dad's advice and went with the place she thought she'd get the best training. (That was GM.) In her early career, she learned enough on the job to keep taking on harder and harder projects and moving up the career ladder.
But there came a point where she knew she wanted to invest more.
"Early in my career, I struggled with finance. I knew that to run a company one day, that was going to be so important for me to master," says Kristin, who enrolled herself in a financial valuation and strategy program at Harvard. "I put myself in a room of people where I was going to probably be the least competent, and it was amazing."
She repeated that approach with other subject areas, including change management and leadership, and credits her focus on continuous learning with her ability to guide companies through change.
"What's been my sweet spot in my career is helping companies reinvent and reimagine themselves to get to a much better, more mature discipline state," she says. Kristin applies the same continuous improvement process to her clients and employers as she does to herself, adding, "I like to be able to grow, mature, and develop companies to be the best that they can be."
Embracing the Mindbody mission
When Kristin knew she was ready for a career change, she wrote two lists.
One was a list of every company she admired or was a big customer of. A lot of them were tech companies, Kristin realized.
The second list was a collection of things Kristin loved. Some entries: "I love wellness. I love encouraging people to live their best life. I love making a difference in the world."
Kristin then looked for companies that fit on both lists, which is how she found Mindbody, a SaaS company that provides business management software for the wellness services industry.
"Mindbody's values are very aligned to my own, which is connecting the world to wellness," says Kristin, who reached out to the company's new CEO on LinkedIn and congratulated him on the appointment.
She didn't expect anything to come of it, but he responded. And a few months later, when he was looking to fill an SVP of Customer Experience role, he reached out to Kristin and asked if she'd come in to interview.
She had a job offer a week later, and now Kristin is committed to building a culture of learning and growth at Mindbody.
"Being able to make some part of people's day better because you're offering them wellness—whether you're a small, locally-owned business like the yoga studio down the street, or enterprise customers, like F45, Orange Theory or Dry Bar—that's pretty special. And our technology connects people to that," explains Kristin.
7 extra tips for leaders
Over the years, Kristin has learned—in the classroom, on the job, and from trusted mentors—what being a great leader looks like. And it's not just embracing continuous education.
Here, she shares some of her top tips for those looking to follow in her footsteps:
Don't underestimate communication skills. "It's one thing to be able to create a vision and create a strategy. But if you're the only one that understands it, or you look back and no one's following, that's a challenge," she says.
Being able to deal with ambiguity is vital not just during a pandemic, but in every leadership role. "It's the ability to keep moving forward, even if the path isn't clear. It's something I worked a long time on, and now when things aren't crystal clear, I navigate those waters for myself and my team," she says. "It's the sense that whatever we face, we're going to be okay."
Focus on your all-around wellness. Mindbody has defined seven dimensions of wellness, says Kristin: physical, emotional, intellectual, occupational, environmental, spiritual, and social. "It may not be that you can balance all of them, but at different times, I've had a really intentional focus on one of them. And the combination of all seven can help you feel really good in life." Practically, she models that focus at work by starting team meetings with a meditation, to give her customer-facing team a way to easily inject wellness into their day.
Consider a sabbatical. Kristin has taken two at different points in her career. During her time away from work, she has raced cars in Vegas, taken a helicopter to the Grand Canyon at sunset, jumped out of an airplane and off a bridge, and spent a month taking her mother around Italy. "Plan for it financially, and then do it with unbridled guilt. Go live your best life, because it will make you better," she says.
Remember it's okay to be vulnerable. "Early in my career, I kept a guard up. I didn't bring my whole self to work. As I grew and matured, I learned that being vulnerable does foster trust and deep relationships," she says. "Bring your authentic self to work because you have unique gifts. As I tell the people on my team, 'You have the power of your creative genius and we're so grateful you choose to use it with us.'"
Center your customers, but also your team members. Kristin runs a global CX organization and she knows that her team is equally vital to Mindbody's success as their customers are. "Our number one goal is to deliver a phenomenal customer and team member experience," says Kristin. "I repeat that at the beginning of every meeting and it's set on every agenda."
Find—and be—a great mentor. "I've had the same one for 25 years," she says. "He's one of my best friends. I trust him implicitly. He has probably given me the fiercest of advice and the fiercest of criticism," she says. When it comes time to pay that forward, don't be shy, adds Kristin. "You can always produce more by doing it together. Lift other people up. There's enough room for all of us at the top."
Inspired to join Kristin at Mindbody? Check out their open roles!