GET EMAIL UPDATES FROM POWERTOFLY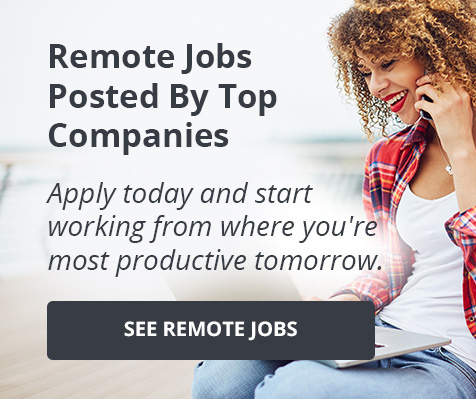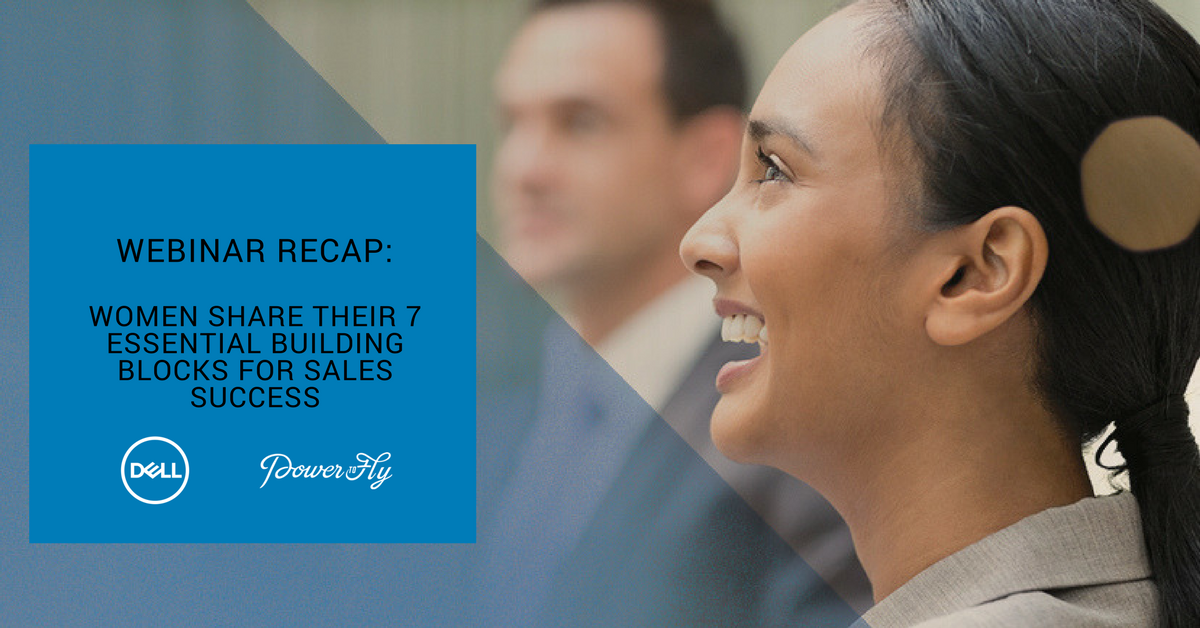 Career and Interview Tips
Recap: Women Share Their 7 Essential Building Blocks For Sales Success
Last week we hosted a webinar (watch it here) with two of Dell EMC's top female Sales executives: Carrie Brown, Director of Commercial Sales and Christie Barber, Director of Sales. With Cristina Duke, an account executive at PowerToFly moderating, we produced a lively conversation that not only addressed the ways women are challenged in the sales industry, but real, tangible solutions to overcoming those obstacles to transform your career.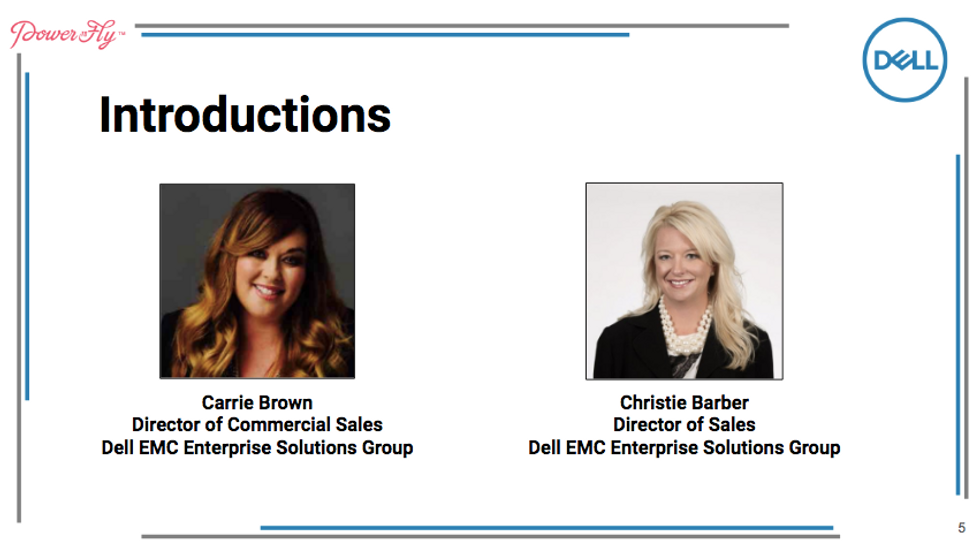 First, let's address the elephant in the room. The sales industry is pretty non-diverse. While women represent 41% of the workforce, they're only 23% of the sales industry.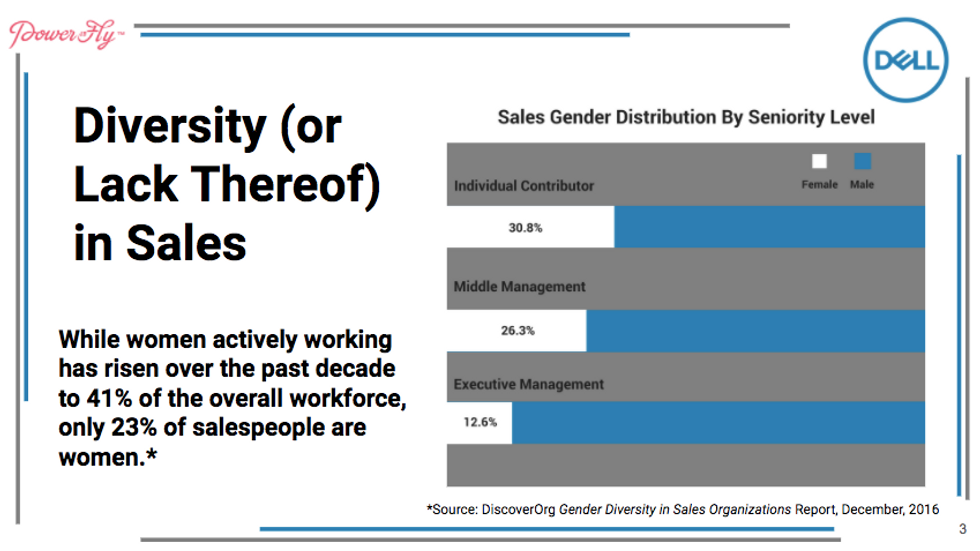 Luckily, Carrie and Christie provided us with 7 steps to help women in sales empower themselves and work towards success.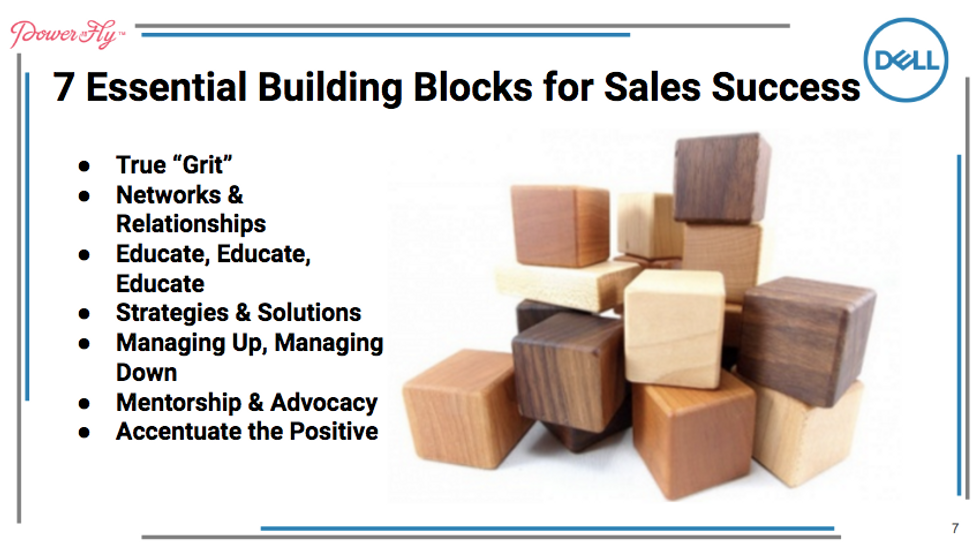 True "Grit" – It's the thing that won't let you give up. In this industry you'll need it to not only secure clients, but also to push yourself to the next level in your career. Christie says, "the grit within you just won't let you quit, the most successful salespeople have this passion for success and it sets them apart from others."


Networks & Relationships – Where would you be without communities to uplift you? Your networks provide you with countless resources to help you grow, so it's best to nurture those relationships as you navigate your career. As Carrie points out, "The optimal balance of relationships exist within your own company, within the technology community and with your customers."

Educate, Educate, Educate – In this industry, you can't afford to not be on top of your game. You need to constantly be improving and learning about the latest technology and information around both sales and team building. During the webinar Carrie pointed out that she attends sensitivity training and stressed how important it is to reach outside of your comfort zone.

Strategies & Solutions – As with anything, it's important to plan out the best way to approach problems and solve them. Sales is no different. You need to devise comprehensive plans for ensuring your customer's success. Because when they're successful, so are you.

Managing Up, Managing Down – Management is often thought of as a top – down thing, but it goes both ways. There needs to be a clear and constant flow of information so that everyone can work in lock-step with one another. As Christie noted, "Understanding how and when to leverage your executive leadership can be a key success factor."

Mentorship & Advocacy – This is a huge one. Much like with networks and relationships, you need to find opportunities to mentor and be mentored. For Carrie, it was a simple as setting up a 1:1 and growing a relationship from there. You need people to both advocate for you and help connect the dots between where you are and where you want to be.

Accentuate the Positive – Having a positive attitude makes all the difference. It can sometimes be the key to closing that deal or making a really powerful connection. Both Carrie and Christie agree — there's no use in complaining about what's wrong. All you can do is try to figure out a way to turn a disappointment into an opportunity for new growth and success.
Did you miss the webinar? Don't worry we've recorded it for you, so you can get a more in-depth look into these 7 steps. Download here and check out Dell's sales opportunities!