GET EMAIL UPDATES FROM POWERTOFLY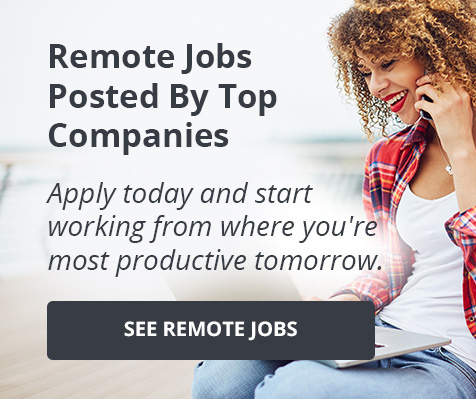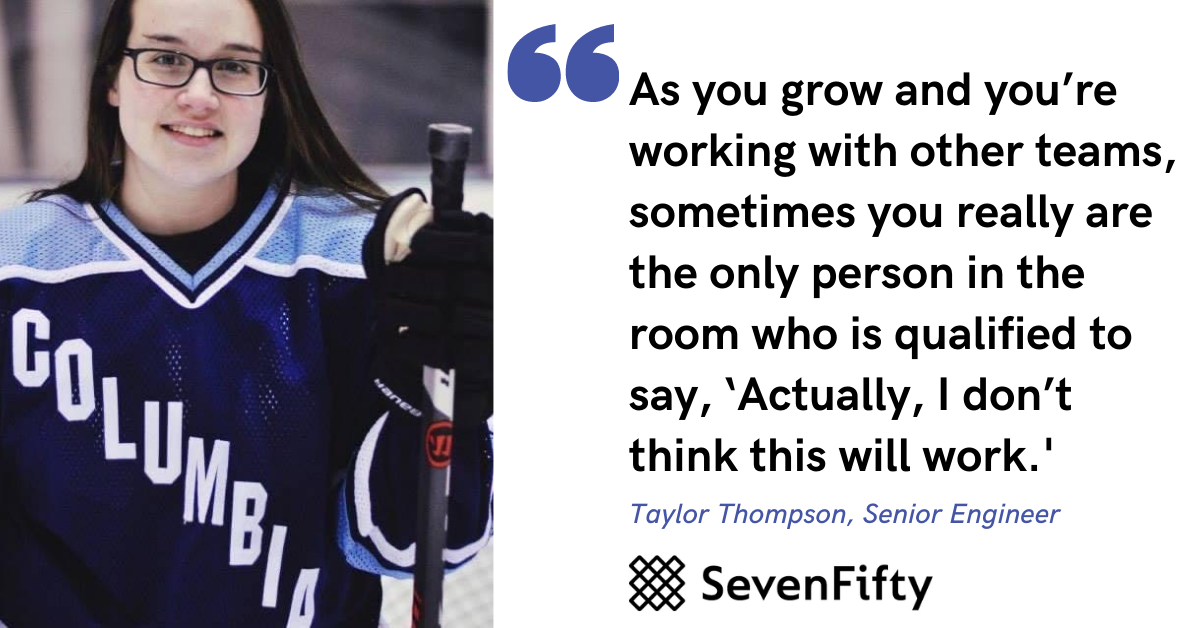 SevenFifty
Two Tips that Helped SevenFifty's Taylor Thompson Build Her Own Path to Impact
Taylor Thompson isn't afraid to try new things. Two of them led her to her current role as a senior software engineer at SevenFifty, a supply chain and communications platform in the alcohol industry.
The first new thing was ice hockey. Taylor had always wanted to play, but her parents weren't big fans of that idea, so she waited until she was in college at Columbia to try out for the club team. She faced a tough learning curve, especially because she hadn't been playing for years and years like her teammates.
"I got to the first practice, and it was bad; I wanted to quit," remembers Taylor. "But here we are, eight years later."
The second new thing was coding. Taylor says that computer science wasn't something she'd really heard about growing up in St. Louis. "There are some more tech companies coming here now, but 15, 20 years ago, that did not exist," she explains.
"CS was not on my radar," she says. It wasn't until she decided against being a doctor and to pursue applied math instead that she took her first CS course, which was a prerequisite for that major, and liked it so much that she changed her major to CS.
Fast forward to two years ago: Taylor was still playing ice hockey in her spare time, and she had a full-time role as a data engineer, but she was ready for a new challenge. When her hockey team went out one night after a game, she found herself chatting with her teammate Gianfranco, who also happens to be the CoFounder of SevenFifty. "He told me about the industry and the problems they were solving, and I thought it sounded really interesting. He was like, 'Are you looking for a job?'" she recalls, and shortly thereafter she found herself interviewing for and ultimately accepting a role.
We sat down with Taylor to learn more about her path to SevenFifty and the opportunity she's had to make an impact in a startup environment.
Defining her own career
Taylor wasn't sure what a CS career looked like when she started in the field. "I was in classes with people who went to coding camp, whose dads worked at Facebook, who had been coding since they were 12. And I'd been coding since three months ago," she says.
Her first professional experience was an internship with the Columbia IT department. It went well, and prepared her for a later role at a boutique consulting agency focused on consumer reports about companies' digital presence. There, she was a data engineer focused on building up the company's database of social and ecomm data.
When she got to SevenFifty, her first projects played off of that experience. As a pipeline engineer, she coordinated with the company's vendors to get their data loaded. "It involved writing custom code to read whatever files they sent us, because every distributor sends a totally different file. Some of them are really high tech and have IT departments we can liaise with, and other times they're sending us an Excel file from 1999 and we have to get it into our system and make it look the same," explains Taylor.
Just like she got more comfortable with hockey the longer she played it, Taylor found herself coming into her own at work, ready to share her experience.
But she quickly realized that not every work environment was ready to hear it.
Realizing where she could make an impact
At the boutique firm Taylor first worked at, she quickly recognized an imbalance in the work she was expected to do and the opinions she was allowed to have.
"It's tricky at smaller companies, because sometimes junior engineers do have outsized responsibilities placed on them, but depending on how the management structure works, your voice still might not be heard," says Taylor. "They're asking a lot of you, but they're not listening to your feedback on it."
She knew she wanted to grow her career at a place where her expertise would be valued and listened to, and she joined SevenFifty because it seemed like that kind of environment. As it turns out, her initial impression was right.
"Within the first six months, I felt a major difference in how senior leadership paid attention to everyone," she says. "I always immediately felt heard and like my input was always listened to."
Even in her two years there, as the company has grown from 50 people to over 100, Taylor says that the culture hasn't shifted away from that focus on individual impact. "We're more rigid about what goes in certain channels on Slack, for instance, and our processes have gotten better, but the culture hasn't become too corporate," she reflects.
Taylor is especially excited about the opportunity to make design choices for the products she's working on, instead of them just being handed down to her from on high. Of late she's been working on product search and ordering APIs, collaborating with the product team on prioritization.
Two pieces of advice for people at small companies looking to make an impact
Taylor has two key pieces of wisdom to pass on to anyone else wanting to make the best of their responsibility set at a growing company: learn to say no, and trust your instincts. Both things have served her well as she's built her own career (and life!).
Get comfortable saying no. Just like she once assumed her parents knew what was best for her, Taylor started her career assuming that her boss was always right—that they knew her capabilities, the company's priorities, and how best to match them. "As you grow and you're working with other teams, sometimes you really are the only person in the room who is qualified to say, 'Actually, I don't think this will work' or 'I don't think this timeline or budget is feasible,'" she says. "Knowing when to say no is a skill in and of itself, and becoming able to say no is difficult, but also an essential skill for growing in this industry."
Trust your own judgement. Part of being comfortable saying no, even to superiors, is having a strong sense of what is right. Taylor says she's felt that from her early days of being in CS classes where she was the least experienced one in the room, but still found ways to share her thoughts. Starting with that humility, she adds, makes it easier to speak up firmly but also constructively. "Now, when I speak up with a technical opinion, even if I'm afraid to say it, later on my boss is happy I raised it," she says.
It does help when the people you're saying no to and sharing your instincts with are people that you like and respect, which Taylor says is definitely the case at SevenFifty.
"SevenFifty is filled with people who really like their jobs, are passionate about their jobs, and have a ton of industry knowledge," she says. "I just feel like on top of wanting to do the work, I don't want to disappoint any of those people; I want to help all of them succeed in their goals."
If Taylor's work experience sounds like one you'd like to have, check out SevenFifty's open roles.