GET EMAIL UPDATES FROM POWERTOFLY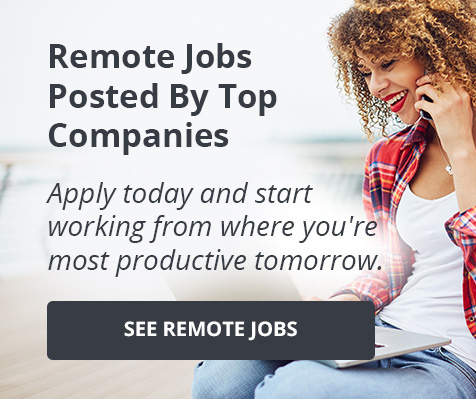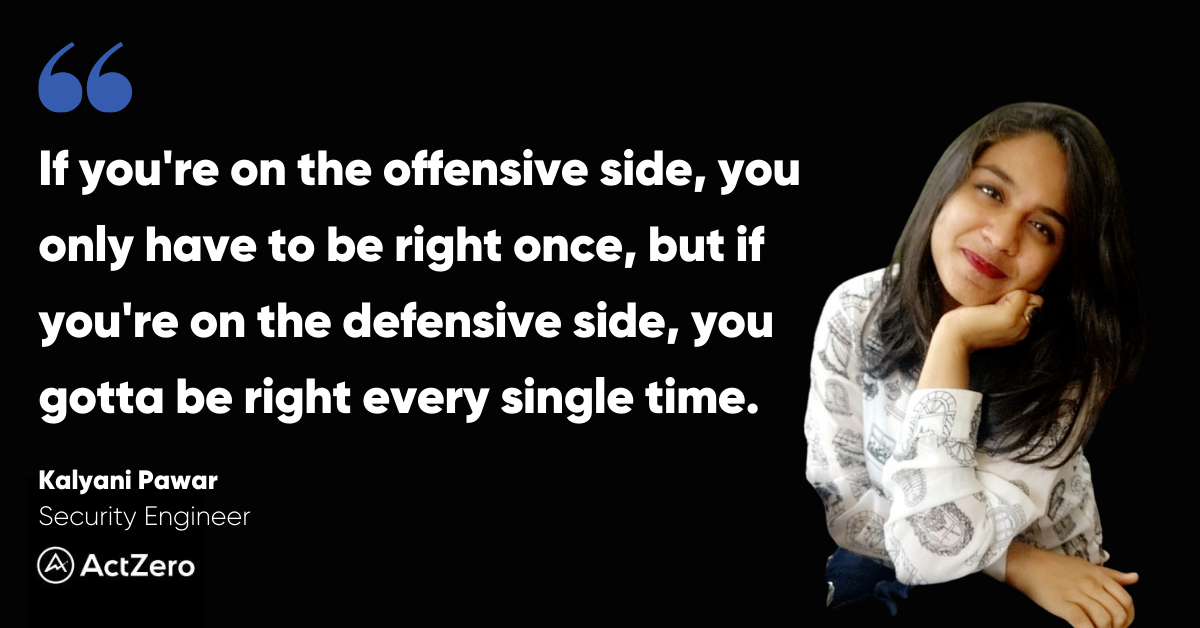 ActZero.ai
Why Kalyani Pawar Chose a Career in Cybersecurity (And Wants More Women to Join Her)
If you looked at Kalyani Pawar's Netflix queue, you might think she was planning to murder someone.
"But I'm not. I'm being honest!" she tells us, laughing.
She's drawn to true crime and thriller shows not because of any personal interest in the content, explains Kalyani—she just likes the problem-solving aspect of unpacking how the crimes took place.
It's that same fascination that inspired her to pursue a career in cybersecurity. Now, as a Security Engineer at AI-enabled software company ActZero, she spends her days coming up with ways to hack into—and protect—different platforms and machines.
"Hacking is my favorite thing to do," says Kalyani. "That's what I have the most fun doing, brainstorming methods to break into the cloud and other such platforms to find ways that they can be vulnerable to emerging cyber threats"
We sat down with Kalyani to hear more about how she discovered cybersecurity, why she chose to work at ActZero, and what advice she has for other women like her who are interested in the field but are wondering whether they'll fit in.
The More Complex, The Better
As a kid, Kalyani loved math. She actually looked forward to enrolling in her first calculus class.
"There was a point where I got excited about even proving that one is less than two. It's that kind of craziness," says Kalyani.
She considered becoming a mathematics teacher, but her dad counseled her that engineering would be a safer career bet. Her aversion to physics made computer engineering the most appealing branch, so even though she didn't like building software, she decided to major in it.
Kalyani credits an undergraduate cryptography class with giving her the cybersecurity bug. She decided to pursue her master's in the U.S., moving from India to study at Johns Hopkins, after seeing a headline that cybercrime would cost the world $12 trillion in 2025.
"Everyone was choosing career paths in machine learning or data science or software, and I sat there thinking, 'Well, if you are all focused on building things, but there's no one to protect it, then you're just leaving yourself out in the open,'" says Kalyani.
During her master's, Kalyani won a scholarship to attend an RSA conference in San Francisco.
"People say the best day in their life is probably when they got married, had kids. But for me, it was going to that conference and meeting the people who made the RSA algorithm, which is responsible for protecting the internet," she says. "Honestly, I was like, 'I have pictures with y'all. I don't need anything else out of this meeting.'"
Going on the Offensive
It was at that conference that Kaylani started networking with leaders in the cybersecurity field. She met a mentor who ended up helping her get an internship at Intuit, where she worked on the offensive side of cyber for the first time.
"If you're on the offensive side, you only have to be right once, but if you're on the defensive side, you gotta be right every single time," she says. It's easy to stay motivated knowing she just has to keep trying, she adds: "I can break into the system, I just have to be persistent and consistent."
Kaylani was at another full-time job when a recruiter from ActZero reached out to her. She took the call, figuring it never hurts to know what's out there, and ended up talking to ActZero's VP of R&D—and getting inspired.
"He's extremely ambitious. And I like to look up to leaders when I'm making a career transition. I knew if that person was going to be my hiring manager, it's going to be fun working with him because he's so passionate about the project that he's working on," explains Kaylani.
She felt the same way after talking to other company leaders and hearing about the founders' backgrounds. "They know what they're doing, and they have a mission, and they're very focused on what they want to do and where they want to go," she says.
It wasn't just the mission that sold her, says Kaylani. It was also the way that ActZero treats their staff. "I've looked at bigger organizations, and some of them don't really care about their employees," she says.
In her role as a Security Engineer, Kaylani works with data scientists to research new ransomware and cyberthreats and to develop a variety of detections for the customers they're protecting.
"I'm a purple-teamer, because I build both offensive security and defensive security tools," she says. "Personally, I like red-teaming, or offensive security, more. There are so many possible permutations and combinations of techniques that hackers are using in the wild. Say I've researched about a 1000 different techniques to hack into something, but I would have fun in developing the 1001th possible technique, and with the best possible intentions!"
Creating Space for Other Women
Kaylani says her mom taught her that her happiness should be measured in impact on others, not financial gains. "She'd say that the money you make stays down on earth, and you're not going to dig it up and take it to heaven with you," she explains. "I strongly believe in the ideology of karma."
To pay forward the mentorship she's gotten from women in the male-dominated cyber space, Kalyani makes sure to mentor women and girls whenever she can. "When anybody asks me for advice on LinkedIn, I'm like, 'Sure, I can give you an hour, let's chat this weekend,'" she says. "It can be difficult to find sponsors or mentors, but they can help you and they do exist."
Kalyani is especially passionate about creating a welcoming space for other women after feeling like she didn't quite fit in on previous teams. "I was forced to discuss sports just so that I could feel included, as the only woman. It is intimidating. You can feel like you're only there because of a diversity initiative," she explains.
At ActZero, she's found that she doesn't need to fake her interests in order to fit in—she enjoys chatting with her coworkers about everything from her family to her baking hacks (an interest she actually picked up after a pie baking class offered at ActZero itself!).
And she's learned to combat her own imposter syndrome by reminding herself of all the hard work she's done to get to where she is—and being honest with others about her experiences so that they realize they're not alone.
"For instance, I get really nervous thinking about big meetings. Or I feel like I'm not that smart. It pushed me into a dire lack of confidence a while ago, when I felt like I wasn't enough. And this is after two degrees and three jobs! But I know a lot of people face it and don't talk about it," she says.
"The world is never going to be a simple place to live in," she adds, "so we've got to help each other and take it one day at a time."
Does ActZero's supportive culture appeal? Check out their open roles here