GET EMAIL UPDATES FROM POWERTOFLY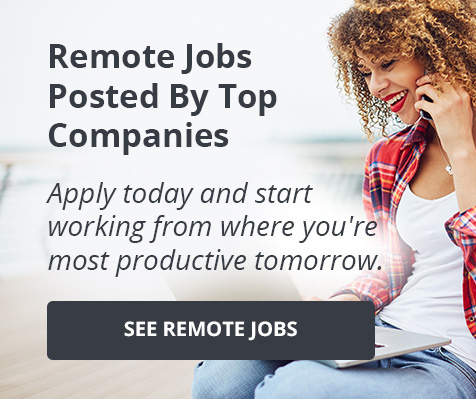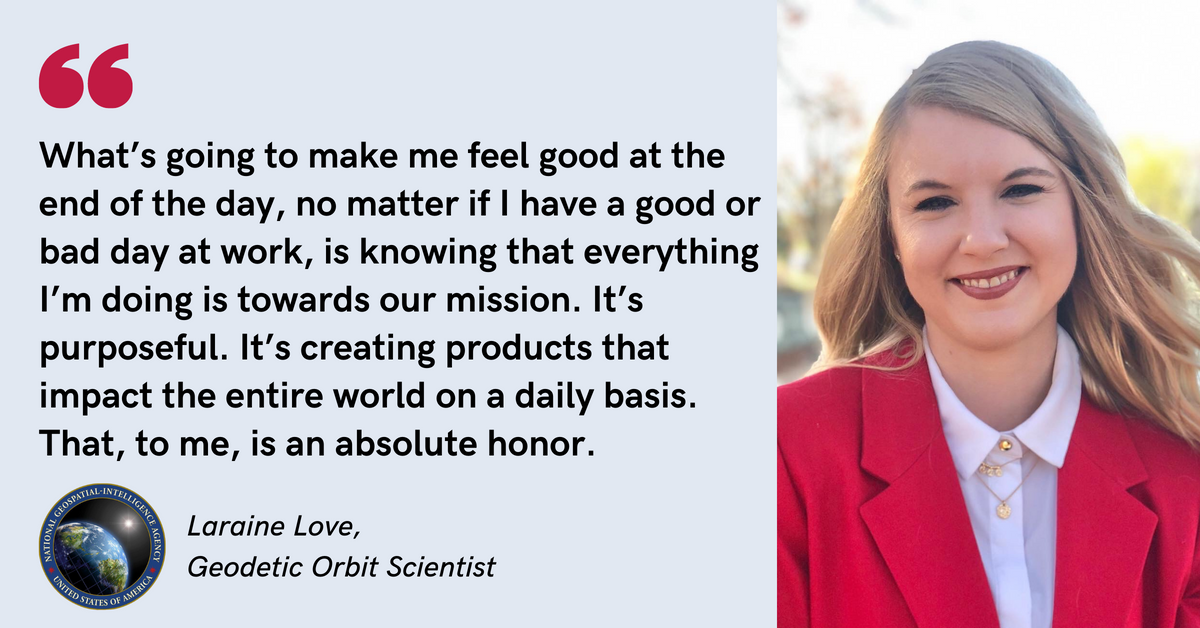 National Geospatial-Intelligence Agency
From Teacher to Geodetic Orbit Scientist: How Laraine Love's Math Career Brought Her to NGA
After a year of teaching secondary math, Laraine Love realized it wasn't the career for her.
"It wasn't challenging for me in the right ways," she says. "It was challenging in some of the wrong ways."
One of those ways was the fact that teaching is a role designed around one person's expertise, and Laraine wanted to be closer to the expertise of others so that she could deepen her own.
---
"I have always firmly believed and loved the quote that if you're the smartest person in the room, you're in the wrong room," says Laraine, who transitioned from teaching into a master's in applied mathematics, and then from that degree into a role as a geodetic orbit scientist at NGA, the National Geospatial-Intelligence Agency.
"At NGA, I'm never going to be the smartest person in the room. And in fact, I hope I'm not. I love that I get to spend the next 30 years growing and going into rooms filled with knowledge beyond my capacity to even understand right now. It's amazing," she says.
We sat down with Laraine to learn more about her career transition, how she figured out what geomatics actually entails, and how other women can lean on STEM skills to successfully transition into the field.
A focused pivot
Laraine studied math in undergrad because she loved it, and added on a teaching license because she loved teaching, too. And while she found certain aspects of being in the classroom rewarding and wonderful, she knew she had to make a change.
"I did quite a bit of research on what you could do with a math degree, and I'd always been passionate about patriotism," explains Laraine. When she realized there was a big need for math (and physics and computer science and engineering) at the Department of Defense and agencies like NGA, she decided to go for her applied math master's and focus specifically on projects that would set her up well to work in the defense field.
After studying mathematical modeling and turbulence modeling, and networking with professors and alumni during her master's, Laraine found herself with an offer to work at NGA.
"I sought out NGA on my own," she explains. "Every single person I had talked to said, 'If you get a job here, you'll never leave.' They said it was a great place to not just start your career, but build your career and stay there. It was the longevity that really appealed to me, especially after being in a career that I was unhappy with."
Hearing others talk about NGA made Laraine sure that she had made the right call in leaving the classroom for the agency. "It was really, really calming for me to be going into a place that so many people spoke so highly of. And more than anything, the work was very obviously purposeful and everyone was extremely passionate about what they were doing. And you can't say that about many places that you get to work," says Laraine. "I'm pretty lucky!"
Since she joined NGA 18 months ago, Laraine has only confirmed her decision. "NGA does a really good job of setting [people] up for success," she explains, citing the classes she's been able to take, the networking and relationship-building they've allowed for, and the opportunities she's been given to attend conferences and do more specialized training.
A crash course in geomatics
While Laraine certainly knew her way around a math problem when she arrived at NGA, the specific field of geomatics was new to her.
"I've learned everything from square one since coming here a year and a half ago," she says. "It can be learned!"
She explains the field like this: "It's about earth modeling and creating a reference frame that is accurate." Her team releases GPS-based products to the DOD and the intelligence and scientific communities to support precise position, navigation, and timing. "Geomatics is the foundation that builds towards that point—we're one piece on the big puzzle of 'where,'" says Laraine.
She compares it with GIS, another NGA product area that we've covered on this blog before, by explaining that "geomatics is the big overlapping reference frame, and GIS is more specialized—it's adding interactivity with the map, it's adding more layers."
Laraine's specific focus is on maintaining GPS collection stations, monitoring real-time data flow, and communicating with NGA's global partners.
"It's about taking charge when you need to take charge, getting your projects done, and answering the needs of the day," she explains. "A lot of that is exactly what a teacher does, so ironically enough, I use a lot of the same skills on a daily basis. It's just a totally different audience, so it's catered a different way."
Leaning on STEM skills
Laraine is an example of someone from a STEM, but not a geospatial, background finding success at NGA, and she knows the same would be true for other people. "I really think any STEM degree would be a great fit, if the person was passionate about our mission," she explains.
Specifically, these are the following skills Laraine sees as prerequisites for success at NGA:
Critical thinking
Innovation
Curiosity
Familiarity with different coding languages
Drive
Communication
Collaboration
Organization
Time management
Confidence: "This is the biggest one for women in STEM," adds Laraine, "just having that confidence to take initiative. Volunteering for that project, speaking up in that meeting, sitting at the table, not on the side by the wall."
Comfort with acronyms! "It's a fire hose when you first get here. You have to learn a ton of acronyms," says Laraine, smiling. "It's a different language!"
Laraine is excited about the opportunity to not just use the skills that qualified her for the job, but to work on deepening and improving them and continuing to serve her team and her country.
"What's going to make me feel good at the end of the day, no matter if I have a good or bad day at work, is knowing that everything I'm doing is towards our mission. It's purposeful. It's creating products that impact the entire world on a daily basis. That, to me, is an absolute honor," she says. "I hope I never take for granted the honor it is to get to go to work with the people I work with and succeed at the mission that we put forth every day."
If that's a mission that interests you, check out NGA's open roles!