GET EMAIL UPDATES FROM POWERTOFLY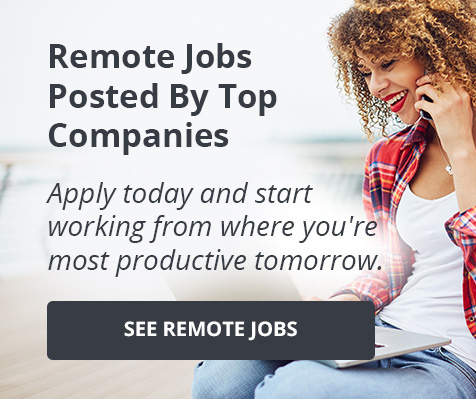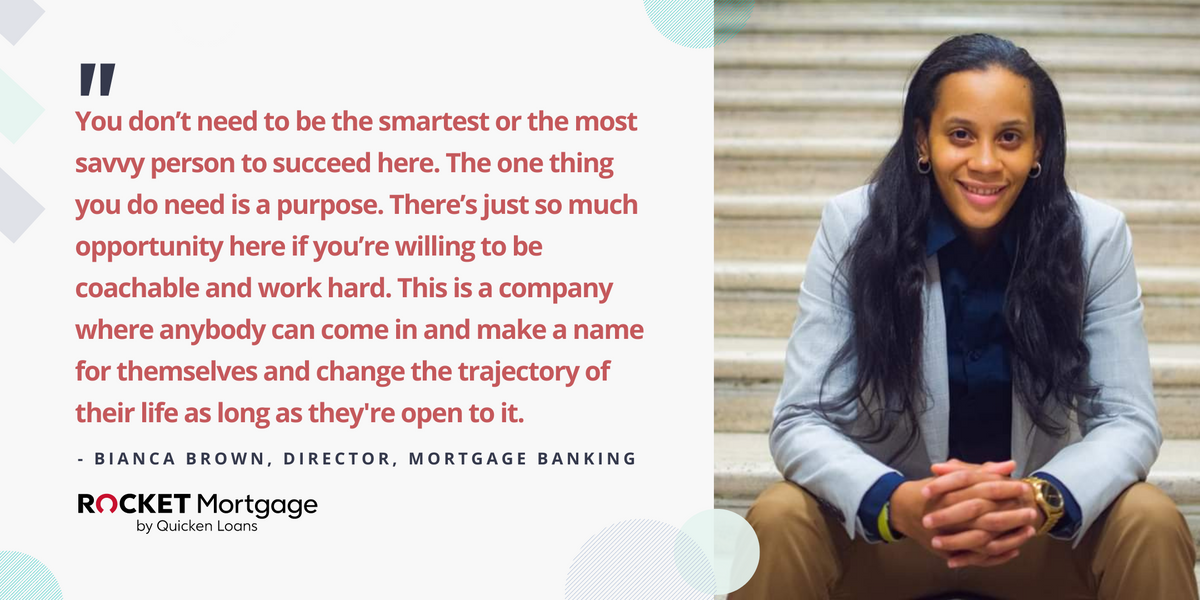 Quicken Loans
On Representation, Constant Learning, and Coachability: How Rocket Mortgage's Bianca Brown Is Finding Success in Finance
Bianca Brown will be the first person to tell you that transitioning into mortgage banking at Rocket Mortgage®, where she is now a director, was "not all peaches and rainbows and sunshine."
---
She'll follow that up, though, by telling you it's been one of the most rewarding experiences of her life. She firmly believes that Rocket Mortgage is a place where virtually anyone can succeed so long as they have three things: a clearly identified purpose or goal outside of work, a willingness to be coached and a strong worth ethic.

We recently chatted with Bianca to talk about her career journey, why representation in banking matters and what advice she has for women interested in working for a company that's made FORTUNE magazine's annual 100 Best Companies to Work For list for 17 consecutive years – or looking to unlock their full career potential wherever they are employed.
From The Court To Rocket Mortgage
When she was young, Bianca planned on her career heading in one direction: toward the WNBA. And for several years, she steadily progressed along that path, earning a basketball scholarship to Northern Illinois University and leading the team as captain while she got her undergrad degree and two master's degrees before playing professionally overseas. But then, things slowed down.
"Honestly, what led to my transition from athletics to the corporate world was adversity," Bianca said. "I didn't take off athletically as quickly as I would have liked to. With me being so competitive, I thought, where else can I shine? What can I do to really maximize this opportunity and not let my support system down? I still wanted to find a certain level of success."
Bianca focused on networking and creating opportunities for herself and ended up landing a job in sales at Target Corp. She took to the sales environment well. "I have the gift of gab," she said – and was up for promotions every six months, which she inevitably earned. Bianca, however, knew her potential was outpacing her opportunities.
"I always exceeded my metrics, but I felt like there was a ceiling over my head because everything was so textbook. It didn't matter how much revenue I drove or how many leaders I developed, I still received a certain amount of income because I was salary-based," Bianca said.
She was told she was ineligible for a bonus program because she hadn't been at the company long enough. "I remember looking at everybody who had waited 15 to 20 years to get where they were and thinking, man, I could do it in less if I'm just given the opportunity."
Bianca decided to go find her own opportunity and started interviewing. She explained that she wanted to find a place where she could earn what she was worth and move mountains without having to wait several years to start doing it.
A family friend referred her to Rocket Mortgage and she loved the high-energy interview process. She got an offer, but it came with some big changes. First, she'd have to leave her community in Chicago and move back to her hometown of Detroit; and second, she'd have to learn an entirely new field – one she'd avoided in college.
Mastering The Learning Curve
To convey her initial disdain for all things numbers, Bianca told the story of her first day of orientation at Northern Illinois University. "I remember the administrator saying, 'Are you applying to get a Bachelor of Arts or a Bachelor of Science?' And I asked her, 'Which one has fewer math classes?' And that's how I ended up with a Bachelor of Arts," she said.
Fast forward almost a decade to Bianca's first few weeks at Rocket Mortgage. "I'm getting hit with all these numbers, guidelines and different equations for how to properly qualify a client. It was like going to school all over again and taking all the classes that I avoided," Bianca said. "But with the support that you have at the company, it's nearly impossible to fail."
Bianca knew how important it was to be open to coaching. She was unafraid and unembarrassed to raise her hand and ask for the help that she needed. She took it a step further, too, asking not just for assistance but for that assistance to come in the ways she needed it. "I would say, 'Hey, I love the way that you're there for me, but can we shift the way you're helping me so it better suits my needs?' And they delivered."
She had a good work ethic after years of running basketball drills and put it to use. She stayed later than some of her peers – "I had to work a little harder to get the same results," she remembers – and it was keeping her goals in mind that helped her push through that training period.
"I knew my purpose was achieving financial freedom, not having a ceiling and being able to grow at a rapid speed from an intellectual standpoint and a leadership standpoint," she said. "If you can think about why you started something, you just keep revisiting that and keep raising your hand. You'll find there's always going to be somebody to pick you up when you fall. And if you just trust the process and trust the journey, you'll always find success at this company."
Four and a half years into her journey at Rocket Mortgage, Bianca now leads 17 bankers. She's responsible for their development and training, as well as coaching them. Bianca is paying forward the help she received during her first few years on the job. When she works with her bankers to explain concepts, she seeks to convey the overall goal of the task, the mechanics of how it gets accomplished and how a given team member's tasks and responsibilities can help them fulfill their goals outside of work - whether those are saving for a child's education, buying a house or taking care of a family.
Though she's now a director herself, Bianca hasn't stopped seeking to learn and grow. Early on at Rocket Mortgage, she learned to seek out mentors outside of her direct leader to learn from people with different styles and perspectives.
"I'm a sponge. I'll see the way someone leads and take in what is suitable for my style and implement it to make me better," she said.
Representation In Action
Bianca noted that growing up with a background in competitive sports had trained her to never take no for an answer, so she never thought twice about reaching the upper levels of corporate success as a Black woman. But she knew that other people might. "Sometimes when you don't have a representation of yourself doing something that you want to do, you don't feel like you can obtain it," she said. "But the more you see yourself, literally a representation of you – whether that's somebody that came from your neighborhood, somebody that mirrors your background, somebody of your ethnicity or gender – and not just one type of person, you don't feel like you have to fit in to be successful. You feel like you can openly be yourself, become who you're supposed to be and still be looked at as a role model and as the example of what success looks like."
Bianca herself has been inspired by the representation at Rocket Mortgage. "There's this Senior Director of Web Mortgage Banking, Blaze, whose real name is Britney Pickett. She was one of the first African American female directors I met in the company. That inspired me because it showed me there was somebody else out there, that it is possible and, more importantly, that I work for a company which embodies diversification," she says.
For Bianca, that diversity is present at all levels of Rocket Mortgage, from people's backgrounds to how they present themselves at work. "I love when I see directors with tattoos or who wear sneakers. It's not even about the actual expression. It's about the fact that they're part of a company which allows them to be their true self. And even though it's not traditional, it's still accepted, and they are successful."
Four Tips For Women Seeking To Break Into Male-Dominated Fields Like Banking
We asked Bianca what advice she has for women looking to make a career transition like hers and here's what she said:
1. Raise your hand and create your own seat at the table. "Don't wait for somebody to tap you on the shoulder. Don't wait for somebody to tell you it's okay. Don't wait for somebody to say, 'Hey, you will be great in leadership.' or 'You will be great in finance.' Know that you can make $300,000 a year, too. Lean in and just take it because why not? You're not any less deserving than the next person."
2. Understand that you can do it all. "There's this stereotype in sales and finance, or any alpha-dominated industry, sometimes even in sports, that you can't be great at what you do and also be a mom, be a spouse or do other stuff outside of work. That's 100% incorrect. The difference is that you have to perform, and you have to have boundaries. You have to be willing and okay to say what you're able to do and what you're not. What you find is, as long as you keep providing your value, people will respect your boundaries and priorities."
3. Become a great marketer. "As women, we don't market ourselves and our accomplishments as much as we should. You see male directors talking about their accomplishments, sharing best practices. When their team does something amazing, they put it out there. Sometimes as women, we're so focused on becoming better that we never really gloat and share the things that we already do well."
4. Be yourself. "When I first became a director, I was always pretty good, but there was this stereotype that I was too aggressive because I had a sports background. I am competitive and very transparent. I understand those characteristics got me to where I am today, but it's something a lot of people are not used to seeing [from someone like me. When a male leader is intense or straightforward, they say, 'He's locked in, he's zoned in, he's ready to go.' A woman does it and she's aggressive or confrontational. But I find that authentic leadership is the best type of leadership. I'm not saying don't acknowledge your opportunities or don't work on things. But when people cannot relate, sometimes it's not always about you not being who you're supposed to be. Sometimes it's about them not being prepared to embrace something different."
Bianca acknowledges that following her advice can be difficult and might even make same uncomfortable, but she stressed how important it is. "The reason we're having this conversation is not because women or diverse people are not capable. It's because we are capable, but there's not enough representation of it. So, in order to change that, we have to be able to change some of the things that make us uncomfortable in order to find success."
Charting Her Future
Bianca sees herself staying at Rocket Mortgage for a while because she's finally found a place where there's no ceiling looming over her. "You don't need to be the smartest or the savviest person to succeed here. The one thing you do need is a purpose. There's just so much opportunity here if you're willing to be coachable and work hard," she said. "This is a company where anybody can come in and make a name for themselves and change the trajectory of their life as long as they're open to it."
Since she's become a leader of others, Bianca's challenges haven't gone away – they've just taken a different form. She's learning how to connect with people who have diverse ways of thinking, how to motivate a wide set of people and how to create a vision and bring her team along with it. She sees how her experience these last four years is impacting the rest of her life. "I've truly been able to take the patience, experience and humbleness that I've gotten from being in this role and apply it to my relationships. I'm a better spouse now, a better listener and a better daughter," she said. "I truly believe I'll be a better parent because I'm able to take the experiences, adversity and roadblocks to figure out how to be solution-focused, while understanding that people are a process."
If you're interested in working with Bianca, check out open roles at Rocket Mortgagehere.