GET EMAIL UPDATES FROM POWERTOFLY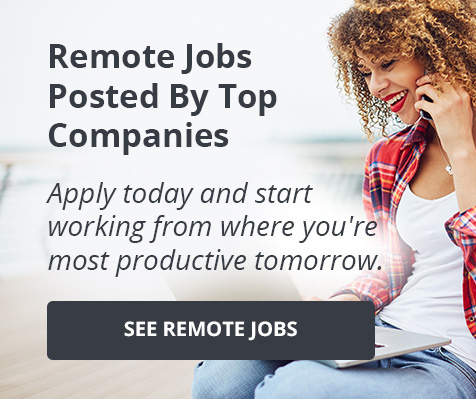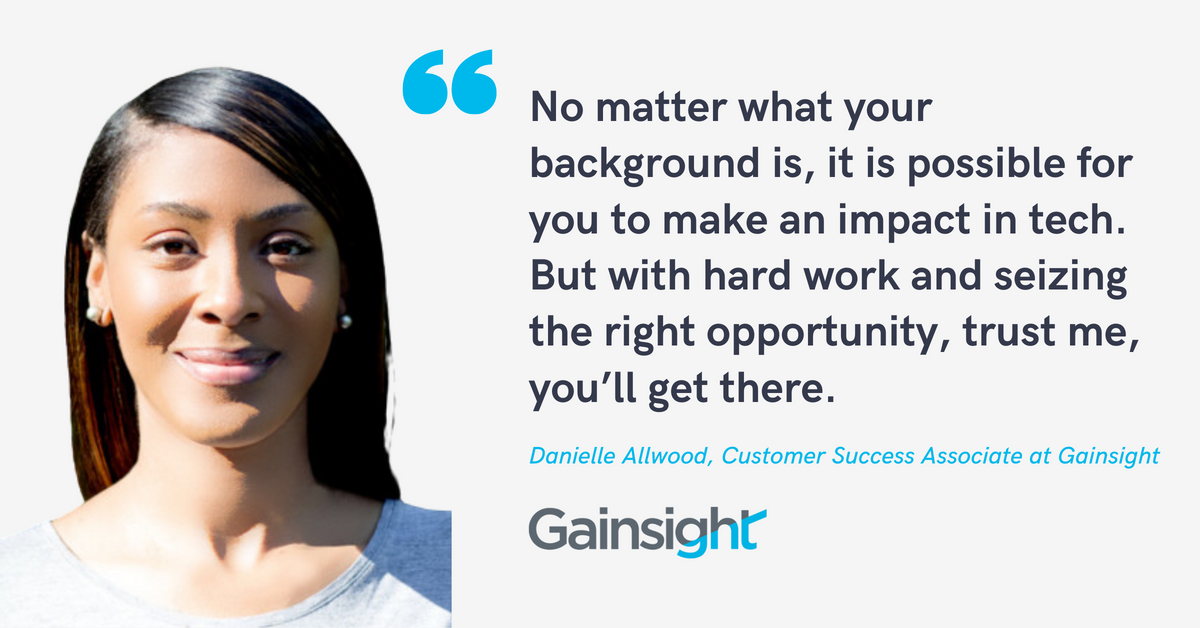 Gainsight, Inc.
How Gainsight's Danielle Allwood Launched Her Dream Career in Tech With Zero Technical Experience, Thanks to CSYOU
Danielle Allwood typed "data analytics remote job" into Google and found PowerToFly.
After exploring our website, she signed up for a few webinars, including our monthly Summit series.
After attending a few events, she registered for our Virtual Job Fair.
At that Virtual Job Fair, she went to a panel hosted by customer success company, Gainsight, on their CSYOU program, a three-part program consisting of training on customer success skills; an internship in tech; and the opportunity for a full-time placement, replete with ongoing training and mentorship.
"While working part-time, I was operating on little sleep to figure out what my place would look like in tech, and with Gainsight, it came full circle," says Danielle.
She applied for CSYOU, got in, successfully completed the training and the internship, and is now a full-time Customer Success Associate at Gainsight.
Danielle's story is truly full-circle, and we were excited to get to sit down and discuss it with her. Read on for insight on how she transitioned from a non-technical career into a fulfilling role in her dream field, thanks to the barrier-breaking CSYOU program.
A way in
When Danielle first found PowerToFly, she'd been applying for roles in tech without getting anywhere.
That's what first intrigued her about the CSYOU program—it expressly stated that non-technical experience was welcome. Danielle knew that her decade of work in high-stakes event planning, with its focus on tight operations and budgets, would serve her well in a customer success situation, so when she saw Gainsight was a partner of PowerToFly, she decided to apply. "I knew if they were partnering with you, I could trust I'd be in good hands," she explains.
The second thing that she loved about the CSYOU opportunity was that they were especially seeking underrepresented individuals. "It's extremely common for someone of color to look online, navigate an industry, find a company within that industry, and then they go and look for pictures of people in that particular company," says Danielle. "And when you don't see a lot of people who look like you or any at all, you begin to wonder if they think that you're of value." Seeing that Gainsight valued inclusion from the get-go was important to Danielle, as was the opportunity to use data analytics to support others.
"I like the process of understanding the behavior of individuals and providing them the resources that they need to be successful in their journey by using both quantitative and qualitative [data]," she says. "That's why I'm really interested in data analytics—you can look at the data and have a more precise perspective of how individuals reach their decisions, change their decisions, and what led them to the decisions in the first place."
Danielle is proof that even skills that may not seem immediately relevant to tech can make a big impact. Looking back, she cites her experience taking her event planning clients from ideation to execution of an event as the perfect foundation for the customer success lifecycle: "It's taking them from end to end, taking care of them," she says.
That's a value that she applies to herself, too. One of Danielle's personal favorite self-care practices is yoga. "It reduces my anxiety and keeps me present not only in the workplace, but with myself," she says.
Embracing growth
The calm, centered approach to problem-solving that Danielle deployed in events (and also brings to the yoga mat) served her well as she transitioned from her month-long training into her internship placement– especially when it came to prioritization.
After finishing her training, Danielle and her CSYOU cohort all filled out a survey identifying what niches they were most interested in working with, from edtech to marketing tech to customer success. Danielle says she was "floored" to be placed with Gainsight.
Now, on a normal day in her full-time role, Danielle contributes her time to scaling support ticket backlog, analyzing ticket metrics and collaborating with teams to create seamless product functionality for a better customer experience. . Everyday can look different; a lot of threads to keep track of and people to coordinate with, but Danielle says the coaching she received both in CSYOU and on the job has helped her learn how to unstick the toughest problems first and to move slowly but steadily towards bigger, but less urgent, goals. She likens her current approach to figuring out how to launch a basketball towards the basket before the shot clock ticks down, describing her key steps as:
Look at an overview of the project
Understand the problem or challenge
"Don't worry about having an A-to-Z plan to tackle it; however, start with what is your desired outcome, as A!" !"
Part of figuring out how to prioritize has been learning how to communicate her own prioritization to others, and to keep their different perspectives front-of-mind, too. "It's very important, when you open your mouth and decide to speak on something that's important to you, to ask yourself, 'For the person that's on the receiving end, why would it be important to them?'" she says.
"The support is unreal," says Danielle. "I have never worked for an organization like Gainsight that matches the support that I had in the CSYOU program, where no matter how many questions you have, no matter what you do not know, there is space for you," says Danielle. Specifically, she's leaned on:
Weekly office hours where she can ask questions of more senior individuals
Regular 1-on-1 meetings with her manager
And an automated feature that matches up Gainsight employees for coffee chats (or Danielle's favorite, milk-and-cookie meetups)
Taken together, Danielle has found the support she needs to succeed in a career she's long dreamed of. "That is so utterly important because it allows you to thrive in a way that you could have never have imagined if those opportunities weren't available," she says.
Looking forward
With less than a year under her belt as an official Gainsight employee, Danielle has already found herself presenting to the company during Black History Month and has had the opportunity to lead yoga sessions during Gainsight's big Pulse Everywhere conference.
"The human-first value they talk quite a bit about is definitely true," says Danielle. "The win at being human-first is that I naturally found an organization that matched and aligned with my spirit. For instance, creating opportunities for other people who don't look like you is humongous, because it creates diverse thought leadership and a company that is able to do things in a really impactful and positive way.."
Now, Danielle is focused on succeeding in operationalizing outcomes in her support role and ideally continuing to grow into a leadership position where she will be able to work on cross-departmental projects to make Gainsight as a whole more scalable..
She has one piece of advice for others thinking about applying to CSYOU, especially those like her who don't have a particularly tech-focused resume: "No matter what your background is, it is possible for you to make an impact in tech," she says. "I say impact versus work because a lot of people can go to a nine to five, but there's not always opportunities to create impact. But with hard work and seizing the right opportunity, trust me, you'll get there. It doesn't matter if you're a baggage handler at an airport or restaurant host—going through the CSYOU program, it's possible."
If Gainsight's culture interests you,
check out their open roles
or apply directly to their
CSYOU
program!